Prep Basketball: Vols end season with 45-32 loss to Prescott

Originally Published: February 7, 2018 9:18 a.m.
KINGMAN – From a successful December to a frustrating January, the Lee Williams High School boys basketball team dealt with its fair share of ups and downs this season. The roller coaster ride came to an end Tuesday night as the Volunteers dropped a 45-32 setback to No. 18 ranked Prescott.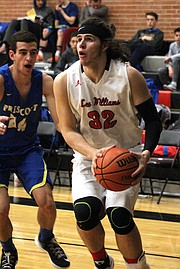 "We played physical, we played hard and we played a lot better than what we did against Prescott the first time," said Volunteers head coach Cain Atkinson. "But we couldn't capitalize and we couldn't score. As good of defense as we might have played, you're not going to win many games scoring 32 points."
No. 30 ranked Lee Williams definitely showed grit in its season-finale after the Badgers (12-7, 8-4 4A Grand Canyon Region) cruised to a 64-31 win Jan. 26 in Prescott. But the Vols couldn't find the basket in the second half and it cost them.
Lee Williams trailed by just four, 32-28, with 5:17 remaining in the game, but then the deficit quickly jumped to double-digits. It was especially frustrating because the Vols outscored the Badgers 15-11 in the second quarter to trail by just one, 20-19, at the half.
"We talked at halftime about trying to play with that same enthusiasm and energy," Atkinson said. "It's kind of plagued us all year where in the third quarter, we come out nonchalant, pretty lazy and there's no energy or enthusiasm. When we score 13 points in the second half – that kind of reflects our effort."
Lee Williams even had a golden opportunity to capitalize at the 4:55 mark of the fourth quarter as Prescott's Cameron Parsons fouled out of the game. Parsons finished with a game-high 10 points.
Unfortunately for the Vols, Kade Juelfs only made one-of-two at the charity stripe and the offense went quiet until Parker Taylor hit a trey for the final points of the game.
"We can't score," Atkinson said. "That's it – we can't put the ball in the hoop."
Taylor led Lee Williams with nine points, while Diego Narvarte scored eight and AJ Herrera chipped in five points. Prior to the game, the Vols honored Taylor, Daniel Del Monoco, Marco Narvarte and Kael Juelfs for Senior Night.
It may not have been the ending that group hoped for, but Lee Williams never recovered after Marco Narvarte's injury Jan. 12 against Flagstaff.
"We've had to battle through some adversity," Atkinson said. "At times I don't think we did a very good job at that, especially when Marco went down. That's kind of how the season turned. I feel like we were doing a lot of good things before that.
"Then after Marco got hurt, they kind of thought, 'It's going to be tough to win without our best player, our leading scorer.' A lot of times they looked that way – they looked intimidated and looked like there was nothing they could do. We just needed to do a better job of fighting through that."
The Vols finish the 2017-18 season at 5-13 overall and 2-10 in the 4A Grand Canyon Region.
More like this story
SUBMIT FEEDBACK
Click Below to: