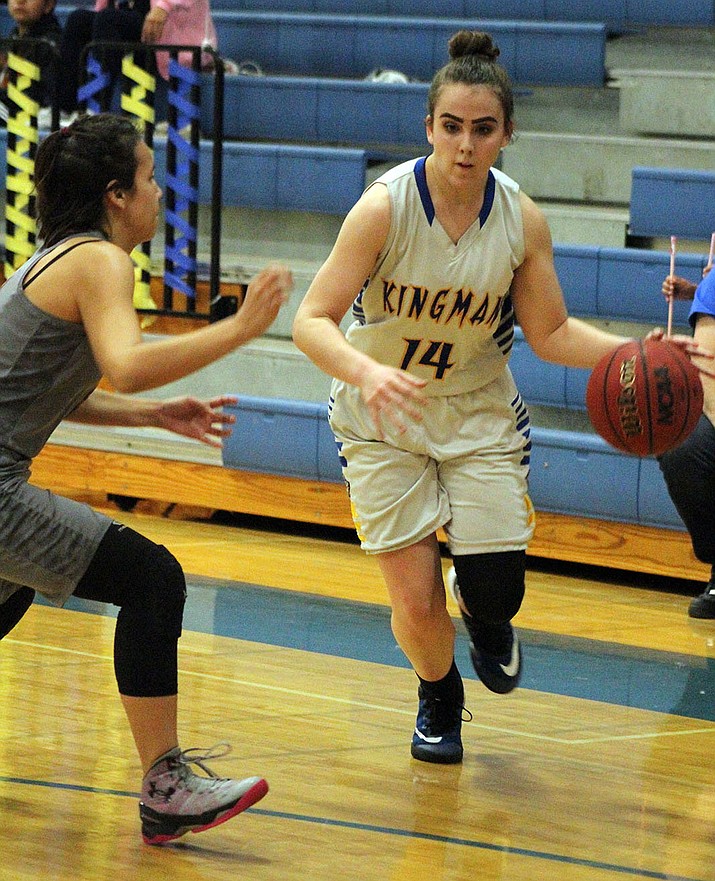 Photo by Beau Bearden.
Originally Published: February 8, 2018 1:19 p.m.
KINGMAN – As the Kingman High School girls basketball team's lone senior, Courtney Mossor wanted to make sure her final home game was one to remember.
Mossor did just that Wednesday night as she bounced back from a bloody nose to score 15 points in the second half of a 62-46 win over No. 31 ranked Odyssey Institute.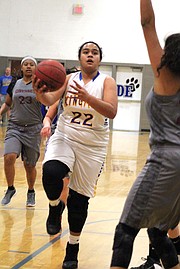 "I was really excited that after getting hit in the face that I actually came in stronger than I was in the first half," Mossor said. "It made me more motivated. I had nothing to lose, so I was going as strong as I could. I put my 100-percent in."
Mossor exited the game late in the first half after colliding with a Lady Minotaur. She returned to the lineup in the second half and scored nine of the Lady Bulldogs' 17 third-quarter points.
Mossor wasn't the only one to find success, as Kearra Tauta scored nine in the second half to tie Mossor with a team-high 17 points. Tarase Marshall finished with 15 and Sukwana Quasula chipped in nine points.
No. 24 ranked Kingman (11-7, 6-4 3A West Region) quickly put Odyssey (8-9, 2-8) in a big hole to start the second half with an 8-0 run that pushed a 30-16 halftime lead to a 38-16 advantage.
While the Lady Minotaurs kept battling, the Lady Bulldogs had little issue in cruising to a win that gives them extra motivation heading into the 3A State Tournament.
Kingman is guaranteed a bid after finishing third in the standings. The bracket will be released at 4:30 p.m. Saturday.
Lady Bulldogs head coach Tony Kern plans to use that time to keep improving before a first-round contest.
"There are still things we can tighten up," he said. "We're going to do that starting (today) until we go to state."
Kingman last advanced to state during the 2015-16 season when the No. 14 ranked Lady Bulldogs picked up a 75-49 win over 19th-ranked Holbrook in the first round.
With that said, Mossor and her teammates are just relishing the opportunity.
"We're all really looking forward to going to state," she said. "We're really excited."