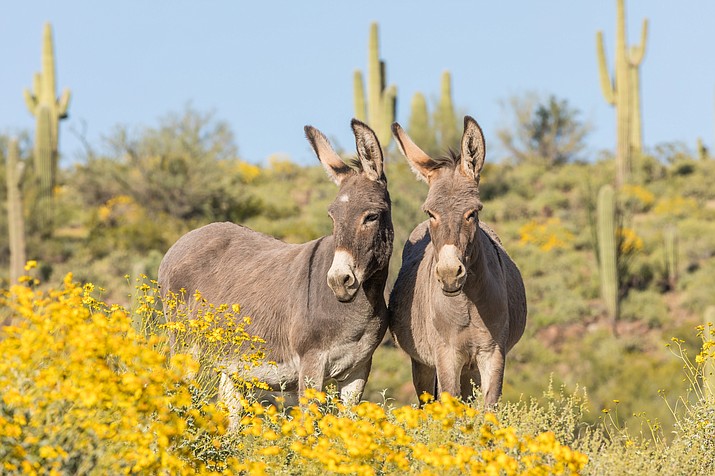 Originally Published: February 8, 2018 6 a.m.
KINGMAN – The Bureau of Land Management has been baiting and trapping female burros, or "jennies," in the Black Mountain area since August in a pilot program with the Humane Society of the United States aimed at reducing the wild burro population.
Female burros are being inoculated with an immunocontraceptive vaccine known as Porcine Zona Pellucida, or PZP, said Adam Eggers, spokesman for the BLM in Phoenix.
"Once we get the animals into the corral, we check their health and well-being and we check their gender, and for jennies, they get the PZP and usually within 24 hours they're back on the range," he said.
They're divided into groups, and some are held for a couple of weeks until they're given booster shots, Eggers added.
As of Feb. 2, BLM had gathered 96 female burros from the Black Mountain Herd Management Area, which has an estimated 1,800 burro population. About 175 males were also gathered in the corral for genetic sampling. The target number is 160 females.
"It's something we're very interested in seeing how the data comes out," Eggers said. "There's not going to be one end-all, be-all solution to burro population control. The way to success is multiple strategies."
The BLM rounds up wild burros and mustangs for adoption, though that's a slow process to reduce the population. Eggers said burros are smart and loveable, and he personally adopted one as a companion for his horse at home.
Grace Kahler, wildlife field manager for Humane Society of the United States, detailed the vaccine project at the January meeting of Kingman Route 66 Rotary Club, digging into the feasibility of using PZP, how it's administered and how it works.
"The Humane Society of the United States does not believe that wild burros are overpopulated, but we do recognize that there are political conflicts related to wild burro populations on our public lands, and that BLM is required to make management decisions based on feedback from a wide variety of stakeholder opinions," Kahler said.
"Our goal as an organization is to ensure that the BLM makes those decisions responsibly, and that where the agency is working to manage wild burro populations, that those efforts must be both humane, effective and reduce the need to remove burros to an absolute minimum."
PZP was first recognized as an effective contraceptive for free-roaming horses in the 1970s, Kahler said. Since then, thousands of wild horses and burros have been treated with the vaccine at different field sites.
BLM and the Humane Society have agreed to work together on the project. The burros are being gathered by the BLM, and fertility control will be done by the HSUS.
"I'm encouraged by it because it doesn't hurt the burros," said Jo Ann Oxsen, publicist for Kingman Route 66 Rotary Club. "It just keeps them from reproducing and there's no side effects. What they're doing is good, I think."
Burros can be a problem in some areas such as Oatman, where tame burros roam the streets of the historic mining town hitting up tourists for food handouts. They can sometimes get aggressive over the food and also pose a traffic danger when they wander onto highways, having caused several accidents around Bullhead City.
Because it's a pilot program with no historical model, Eggers said there's no way to calculate how effective the PZP vaccine will be in controlling the wild burro population in Oatman and the surrounding Black Mountain area.
"That's why the partnership with the Humane Society is fantastic for us to get the PZP trial going and look at the research and go off what the research tells us," the BLM representative said. "In this phase, we're just seeing if it'll work and how effective is it."
The PZP vaccine activates the burros' immune system, blocking a crucial aspect of reproduction. Porcine refers to how the vaccine is made from the zona pellucida from pig eggs. Zona pellucida is a glycoprotein membrane that surrounds all mammalian eggs.
Since sperm must attach to the zona pellucida before an egg can be fertilized, when PZP is injected into the muscle, it stimulates an immune response to produce antibodies that attach to the sperm receptors, thereby blocking sperm attachment and fertilization during breeding.
The vaccine is administered either by darting, firing a self-injecting dart filled with a dose of PZP from a dart gun, or through hand injection.
As far as side effects, research and observations in the field indicate that a small percentage of burros may have a reaction to either the dart or the vaccine and develop small abscesses at or near the dart site, which typically heal on their own.
The Humane Society manager said her organization is pleased to pursue the vaccine project with the BLM.
"We believe it will provide the BLM with current, up-to-date scientific-based information that will help managers decide how best to incorporate this tool into their current wild burro management programs on public lands in the U.S.," Kahler said.