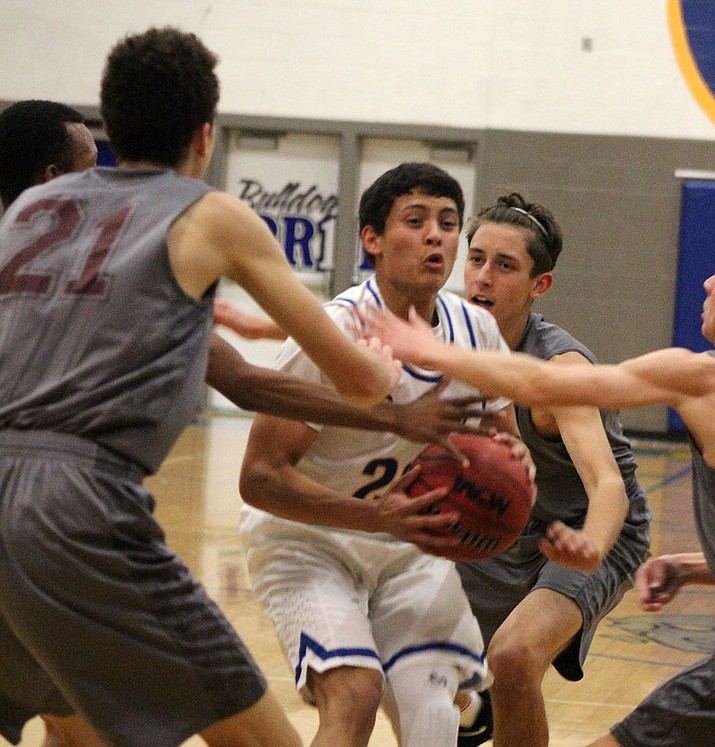 Photo by Beau Bearden.
Originally Published: February 8, 2018 1:16 p.m.
KINGMAN – While many of his Kingman High School boys basketball teammates were celebrating with friends and family Wednesday night, Elijah Howery could be found deep in thought.
The senior had just scored a team-high 15 points in a 50-44 win over No. 34 ranked Odyssey Institute, but his mind was on a much bigger accomplishment.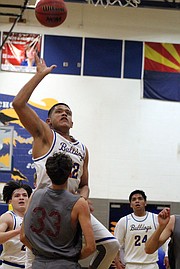 "I still can't even believe it," Howery said. "For four years, everyone has been waiting for this moment – to go to state. It's feels great. It feels so good."
Bulldogs head coach Nick Juby shared those same feelings as he's looked forward to this day since he took over the helm before the 2015-16 season.
"It feels really great – it's awesome," Juby said. "This has been three years in the making. It's something we've been working towards. … I couldn't be happier. I'll be smiling for a week – or at least a couple of days. Then my brain will be, 'Alright, it's time to get locked in again.'"
No. 27 ranked Kingman (9-9, 5-5 3A West Region) guaranteed itself a bid to the 3A State Tournament by finishing third in the standings. While a loss to the Minotaurs (3-15, 2-8) wouldn't have knocked them out of postseason play, it was important to end the season on a high note.
"The guys didn't have any quit in them," Juby said. "They gutted it out. They're brothers. They're bonded for life. I couldn't be more proud of them to go out with a win on Senior Night."
It wasn't easy though, as the Bulldogs started off slow and fell into an early 17-10 hole after the first quarter. Kingman quickly recovered with a strong second quarter, but Odyssey continued to find a way to stay within striking distance.
"You have to give it to Odyssey – they were hitting a lot of shots," Juby said. "Once we took the lead at halftime, I said 'Hey, we got this guys.' We made the free throws we needed to make. I couldn't be more proud of them."
The Bulldogs went 4-for-6 from the charity stripe in the fourth quarter, and it proved to be the difference-maker as the Minotaurs inched within two, 46-44, at the 1:08 mark. But Howery made two at the line and then senior Christian Demme's basket sealed the win.
Howery was the lone Bulldog to finish in double figures, while Tobias Bagby scored eight and Tucker Humble added seven points. Seniors Anthony Siyuja (five points), Quanah Quasula (three points) and Demme (two points) also contributed for Kingman.
The Bulldogs find out their state opponent when brackets are announced at 4:30 p.m. Saturday. No matter where Kingman is headed, Juby is ready to make the trip.
"I don't care if I have to go to Mars or the moon, I'll go wherever we have to go because we're going to the state tournament," he said. "I'm excited. It'll be next Wednesday and it'll be fun because you never know how that bracket will shake out for us. It could be quite favorable."