More than $100 million to repair crumbling Arizona bridges
Originally Published: February 13, 2018 5:58 a.m.
Document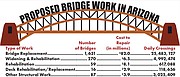 KINGMAN – Bridges with aging infrastructure are in danger of crumbling across the nation, and it's going to be an expensive fix, estimated at more than $100 million to repair bridges in Arizona.
Two bridges in Mohave County have been classified as structurally deficient, which means one of the key structural elements is in poor or worse condition, according to a report from the American Road and Transportation Buildings Association.
The report released Jan. 31 identified 205 structurally deficient bridges that are most traveled in Arizona, including two bridges on Interstate 15 over the Virgin River.
The one built in 1964 gets 18,493 daily crossings, while the one built in 1967 gets 20,527 daily crossings, the report said.
With a total of 87,289 bridges, Arizona was ranked No. 48 in the nation based on the percentage of structurally deficient bridges, and No. 43 based on the number alone.
"It is no secret that America's infrastructure, along with those of many other countries, is aging and failing, and that funding has been insufficient to repair and replace it," the National Academy of Engineers stated at a 2017 summit. "Engineers of the 21st century face the formidable challenge of modernizing the fundamental structures that support civilization."
Overall, Mohave County bridges are in pretty good shape, said Steve Latoski, director of Mohave County Public Works.
"Mohave County is in sound position and has maintained a proactive position in inspecting and maintaining and repairing our bridges and culverts," he said.
The I-15 bridges are under jurisdiction of Arizona Department of Transportation, which inspects each bridge structure every two years in accordance with National Bridge Inspection Standards, Latoski noted.
The county's engineering staff inspects culverts annually, and a current study by the Arizona Association of County Engineers found no bridges to be structurally deficient in Mohave County, he added.
In 2015, the county completed an extensive rehabilitation of the historic Sand Hollow Bridge on County Route 91 in the Beaver Dam area of the Arizona Strip at a cost of more than $400,000, Latoski noted.
The Federal Highway Administration classifies a bridge as structurally deficient if the condition rating for the deck, superstructure, substructure or culvert and retaining wall is rated 4 or below, or if the bridge receives an appraisal rating of 2 or less for structural condition or waterway adequacy.
Bridges are inspected and rated on a scale of 0 (failed) to 9 (excellent). A rating of 4 is considered poor condition when structural elements show signs of advanced section loss, deterioration, spalling or scour.
Highlights from the national bridge inventory specific to Arizona:
Twenty-eight structurally deficient bridges in the state are on the interstate highway system.
About 150 bridges are posted for load, which may restrict the size and weight of vehicles crossing.
Over the last five years, bridge investment has accounted for 13.7 percent of highway and bridge contract awards in the state, compared with 28.9 percent nationwide.
Over the last 10 years, 618 new bridges have been constructed in the state, and 288 have undergone major reconstruction.
The state has identified needed repairs on 2,063 bridges with an estimated cost of $103.4 million.
Arizona Department of Transportation recently completed a new bridge at Cherry Creek on State Route 260 between Cottonwood and Camp Verde. It's part of a $62 million highway widening project that's reached the halfway point of a 9-mile stretch.
ADOT crews poured 320 cubic yards of concrete to complete the deck of the new bridge, which has three spans of almost 100 feet each, is 48 feet wide and is about 15 feet above Cherry Creek. It will connect the new eastbound lanes of SR 260 and help carry more traffic.
More like this story
SUBMIT FEEDBACK
Click Below to:
This Week's Circulars
To view money-saving ads
For as little as $3.49*