Neon-night downtown walking tour coming up
Daily Miner Staff
Originally Published: February 15, 2018 5:58 a.m.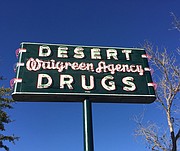 KINGMAN – Route 66 ambassador and local author Jim Hinckley is using pictures from the Mohave Museum of History and Arts on his walking tours of downtown's historic business district.
Tour participants will discover Kingman's rich history and get a glimpse of its exciting future on the neon-night walking tour scheduled for 6 p.m. March 10.
Hinckley said he'll take guests on a "fun-filled odyssey" that includes stops at numerous businesses.
"This special Promote Kingman walking tour was organized in response to a request from the Kingman Progressive Alliance for Positive Change to highlight the exciting and dynamic changes in downtown Kingman," Hinckley said.
Cost is $10 per person and the tour will start at the train depot on Andy Devine Avenue at Fourth Street. Walking distance is about 2 miles.
Guided walking tours can be scheduled at www.promotekingman.com.
It is recommended that tours be scheduled for the evening to enjoy the neon signage being restored or created by Legacy Signs.
Hinckley promotes Route 66 tourism around the world, bringing Route 66 associations to Kingman from Europe, Australia and Japan.
The first European Route 66 tour will stay overnight in Kingman on May 15. A reception is being organized by Route 66 Cruizers, Route 66 Association of Kingman and Promote Kingman.
In August, Hinckley plans on going to the European Route 66 Festival in Czech Republic, where he will talk about the Mother Road and set up a Route 66 information booth.
He's also been asked to help with an information booth at a Route 66 festival in Shamrock, Texas, in August.
More like this story
SUBMIT FEEDBACK
Click Below to: