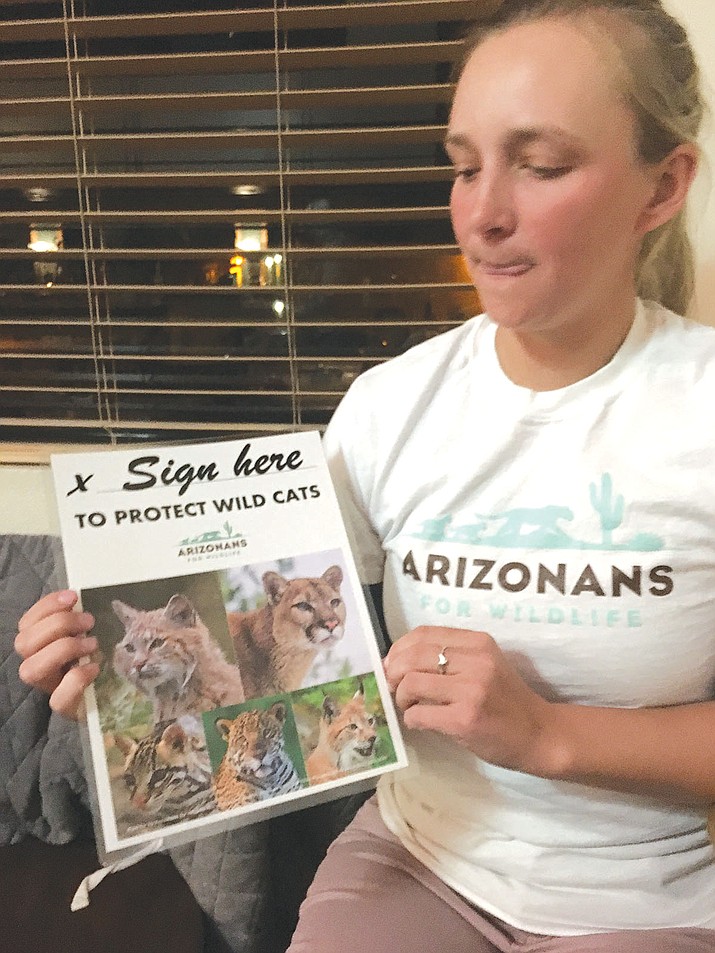 Photo by Hubble Ray Smith.
Originally Published: February 16, 2018 5:58 a.m.
KINGMAN – Grace Kahler has a few wildlife causes, working with the BLM on a plan to control the burro population in the Black Mountains and now supporting an initiative to protect Arizona's wild cats.
The Arizonans for Wildlife volunteer spoke at the Mohave County Democrats meeting Tuesday at Calico's Restaurant, laying into the Arizona Game and Fish Department for allowing trophy hunters and trappers to kill thousands of mountain lions and bobcats every year.
Trophy hunting is "cruel and barbaric," Kahler told about 15 people in attendance. It has to be stopped in order to protect species such as mountain lions, bobcats, lynx, jaguars and ocelots.
Nearly two-thirds of Arizona voters support placing a measure on the 2018 ballot to prohibit trophy hunting and trapping, she said.
"In fact, 65 percent of Arizonans believe this practice is already illegal," Kahler said.
The majority of mountain lions are killed by trophy hunters using paid outfitters and hounds to track and bay the cats. Hounding the cats, even if it's only for the chase, is an "unsporting and inhumane practice," said the wildlife field manager for Humane Society of the United States.
Mountain lions are chased through canyons by packs of radio-collared hounds until they're scared up a tree or rocky outcrop. The hunters use remote technology to find the treed animal and shoot it at close range.
Bobcats are trapped with steel-jawed leg traps on private land and cage traps on public lands. They're only checked once a day, or in some cases once every three days, so animals are left to suffer in "excruciating pain" for hours, Kahler added.
If a mother wild cat is killed, her kittens will die from dehydration, starvation, predation or exposure.
"This is especially concerning during peak birthing season as mother lions seek to care for their newborn kittens," Kahler said.
She got a few people to sign her petition at the Democrats meeting, and directed everyone to go to www.azforwildlife.com for more information on the legislative effort.
Voter registration
In other business at the meeting, Ed Pyrzinski talked about the challenges of registering voters.
It's not easy recruiting Democrats in deep-red Mohave County, but "they're out there," the secretary of Mohave County Democratic Central Committee said.
Pyrzinski told a story about signing up an 82-year-old woman whose husband had just passed away. He didn't want to bother her with voter registration, but she said, "I want to do this."
He ended up going to the memorial service for the women's husband.
Pyrzinski said MCDCC needs volunteers to put in three to four hours on a Saturday to canvass with candidate petition forms for "clean election" money, which means candidates take no contributions from lobbyists and each get a designated amount.
"Right now, candidate petition forms are what we need," he said. "If they can't secure enough signatures, their campaign's over."
More like this story