Originally Published: February 19, 2018 6 a.m.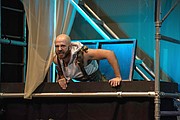 The Utah Shakespeare Festival is coming to Lee Williams High School again to perform one of Shakespeare's famous plays, "The Tempest."
Previous years the show has been a success. The show first came to town when late Kingman High School drama teacher, Hilda Aguilar, brought it for two years.
Since then, Jen Potter coordinator at the Positive Alternative Campus, Sarah Krucharek, technical theatre teacher, and Debbie Talk, English teacher at Lee Williams, brought back the production in 2014. After bringing it back the teachers have seen positive reactions from the students about their experience.
"We made it to be our three-year goal, but she (Jen) stepped in and said we can do this now," Krucharek said.
"The Tempest" is a play full of magic, love and laughs. The opening scene of the play starts in a secluded island with a sorcerer, Prospero, and his daughter, Miranda. Both are stranded on the island for 12 years because of Prospero's brother, Antonio. Prospero senses his brother is near and conjures up a storm to make the passenger believe they are stranded.
Three plots are unveiled in this literary piece of work: love, charm, and betrayal.
USF is an educational program that travels to five different states and performs Shakespeare's works to schools, community centers and correctional facilities. After each performance, cast and crew go up on stage to answer any questions from the audience.
"It's not like normal theatre," Potter said.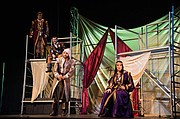 For students, they have workshops they can participate in. Some of the workshops include, stage combat, improvisation, and learning how to perform Shakespeare's work.

"It's amazing the culture and the arts that they get to see that they wouldn't get to if this experience and this opportunity wasn't available to them," Talk said.
Five to six students from the Career and Technical Education theatre program get to help with set up and apply their skills and knowledge. The students have the opportunity to ask professionals questions about their particular career fields.
Students are able to apply what they see on stage into their academics. Being exposed to different Shakespeare works, besides the traditional works, helps students become more aware, which can help with state testing. Watching the play being performed can also help student's apply their knowledge in the classroom when reading Julius Caesar.
"Every year they will come and perform something different, so now it's greater exposure to his [Shakespeare] other works," Potter said.
USF will perform a 75-minute adaptation of the play for the students during school, which will allow both KHS, LWHS and for the first time, eighth graders from White Cliffs Middle School to attend.
Also, USF will perform a show for the community at 7 p.m., Feb. 21, at Lee Williams High School auditorium. The lobby opens at 6 p.m. and seating begins at 6:30 p.m. There is free admission to the show, but donations are encouraged. Drama students will be selling concessions to help support the event.
More like this story