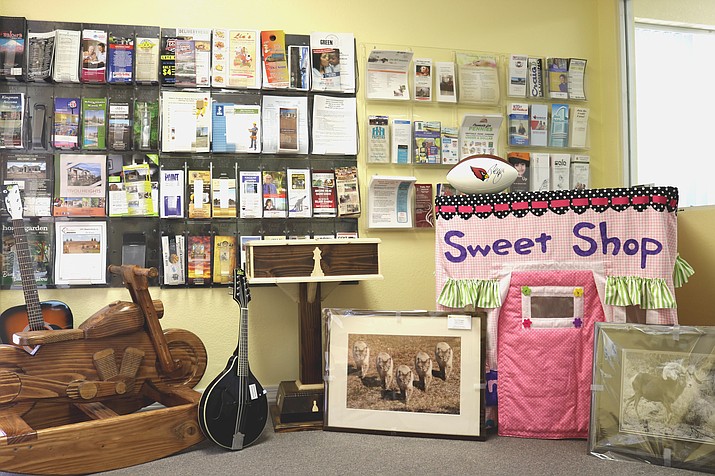 Originally Published: February 21, 2018 5:58 a.m.
KINGMAN – A night of wine, beer, food and raffle items is again in store for Kingman, as the Kingman Area Chamber of Commerce will host the 25th annual Hollywood and Wine Extravaganza from 6-9 p.m. Saturday at Beale Celebrations, 201 N. Fourth St.
Black Bridge Brewery, 421 E. Beale St., will be on hand with their craft beers. Wine and food will be provided by Mattina's Ristorante Italiano, 318 E. Oak St., and will consist of 14 wines.
"They're all wines that you can't find locally," said Jason Millin, membership and sales specialist at the chamber. "We want wines that are high-end wines that you may not always have the chance to sit there and sample."
Cheese and fruit platters will be available as lighter options. While it is not a full-meal event, a selection of heavy-appetizers from Mattina's should keep the hunger pangs away.
"If you walk away hungry, you did something wrong," Millin said.
There will be a silent auction and a live auction for numerous items. These include a motorcycle rocking horse, a standup chessboard, a playhouse and a portfolio by Tim Woods of Woods Saddlery, 117 N. Sixth St. The auctions will begin later in the evening at about 8 p.m.
Tickets are $45 an individual and $80 per couple, or pair, so Millin said it's smarter to bring a friend. All food and alcohol is included in the ticket price.
"It's a great event," Millin said. "Last year was one of the biggest events in town."
Last year's event saw 230 tickets sold, and this year is on par to do even better. There are perhaps 50 tickets left of the original 250.
"Tickets are limited so if they haven't gotten them they need to hurry up and get them," Millin said.
Taxis and Uber drivers will have a presence on Beale Street Saturday night, ensuring a safe trip home for event-goers. Contact the chamber of commerce, 3001 N. Stockton Hill Road Suite 3, or at 928-753-6253, for tickets or more information.
More like this story