Kingman Police experience a nearly 10-percent increase of calls in 2017
Originally Published: February 21, 2018 6 a.m.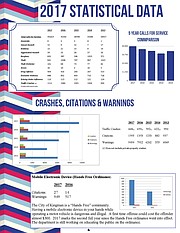 It was a relatively peaceful 2017 for Kingman Police Department with no homicides, but officers responded to 44,814 calls for service, a 9.2 percent increase from the previous year.
Crime statistics from KPD's 2017 annual report show a rise in sexual assault (12), aggravated assault (54), burglary (602), car theft (101), arson (16), domestic violence (988) and driving under the influence (119).
On the decline were homicide (0), robbery (13), theft (941) and drug offense (404). Kingman police officers also responded to 1,111 traffic accidents, compared with 1,066 in 2016.
"Staffing levels coupled with increased demand for service continue to pose a challenge for the department," Police Chief Bob DeVries stated in the report.
DeVries had to take two officers from school patrol and one member from the gang task force to fill in for daily patrol coverage because of vacancies, injuries and extended medical leave.
He blamed the opioid epidemic for much of the violence and drug-related offenses that dominated calls to KPD. Over the last five years, drug offenses are up 41 percent, robberies 38 percent and aggravated assaults 24 percent, he noted.
Total arrests rose 57 percent over those five years. KPD officers arrested 4,053 adults in 2017 for 4,488 criminal offenses.
Perhaps the most noteworthy arrest came early in the year when Alfredo Gerardo Blanco was arrested Jan. 11 at a rehabilitation center in Youngtown. He's charged with first-degree murder of Sidney Cranston Jr., and is awaiting trial.
As for the opioid crisis, KPD has taken a "multipronged approach" with enforcement, education and treatment.
The department received a $129,000 grant from University of Baltimore's opioid intervention initiative and will partner with the court system and probation department on a program for low-level offenders struggling with addiction.
Kingman was the first Arizona police department to train its officers in the use of Narcan, an overdose reversal drug that saved five lives in 2017, DeVries said. A recent graduate of the court's drug program was one of the first people to be administered Narcan, and gave police credit for saving his life and giving him a second chance.
Neighborhood Services made 3,065 calls in 2017, roughly split between animal control and code enforcement.
The department mourned the loss of another police dog in 2017, putting down Cyrus on July 18 due to a debilitating disease. They lost Amigo the year before, also due to a medical issue. On Aug. 17, KPD dedicated a K-9 memorial in front of police headquarters.
The Mohave Area General Narcotic Enforcement Team made 438 drug-related arrests during the year, highlighted by a November traffic stop on Interstate 40 that netted $1.65 million in cash, 44 ounces of heroin and 113 ounces of cocaine.
In wrapping up the year, DeVries mentioned KPD officers and staff who helped provide stress management for those who responded to the scene of a mass shooting that took 58 lives in Las Vegas on Oct. 1.
"I want to thank each and every member of our team for the professionalism they bring each and every day as they proudly serve our residents and visitors. They are the heart of KPD," DeVries said in the annual report.
More like this story
SUBMIT FEEDBACK
Click Below to:
This Week's Circulars
To view money-saving ads
For as little as $3.49*