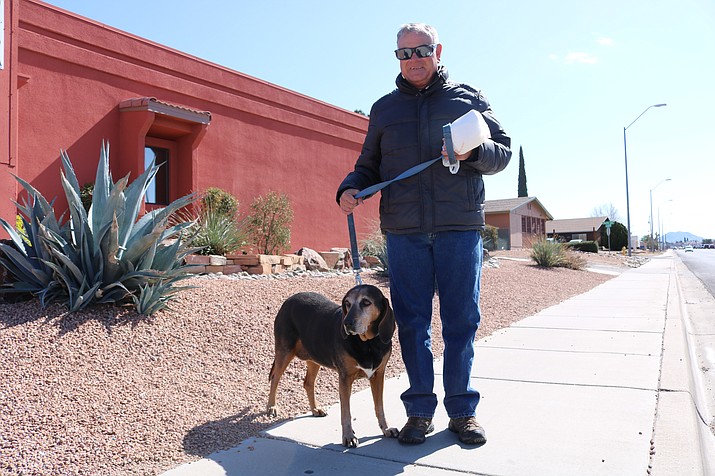 Photo by Travis Rains.
Originally Published: February 25, 2018 6 a.m.
February is known for many things; Black History Month, Valentine's Day and even National Margarita Day, but another less-known focus of this month is pet dental health.
As pet owners know, when pets start to age bad breath can begin to afflict the furry friends. But Dr. Robin Paterson of Cerbat Cliffs Animal Hospital made clear that dental health is important for pets of all ages.
"It's for all ages," she said of pet dental health. "We should be seeing each pet every 6-12 months for a general checkup, and that's a great time for us to be checking a pet's mouth."
Plaque and tartar accumulation vary greatly between pets and breeds of pets, and as such monitoring a pet's dental health should be done consistently. Dogs, cats and even ferrets need to have their dental health monitored. Once plaque and tartar buildup have progressed, it's often too late to institute preventative measures.
"Developing good preventative strategies start when they're younger," she said. "Things like teeth brushing and using dental hygiene products."
Paterson added that as often as humans brush and floss, we still have to take biannual trips to the dentist. Pets, too, need constant dental care.
"The number one best thing is brushing," Paterson said. "If you can brush your dog's or cat's mouth that can help get some of that plaque off before tartar accumulates."
While not the most pleasant experience for owner or pet, lifting up a pet's lip to look for visible tartar and plaque buildup is a good way for owners to monitor dental health. Paterson also recommends keeping an eye out for changes in eating habits and changes in playful behavior, for instance, if a pet is no longer playing with a beloved toy.
"Dogs and cats don't tend to complain as much, but when they get in here and we clean their teeth we can find that they have abscesses, or that teeth have become mobile or fractured," Paterson said.
Malocclusion of teeth, teeth which are not properly aligned, is another issue pet owners should watch out for. While animals tend to find ways to eat and play so they are not constantly bothered, the misalignment can negatively affect a pet over time.
"If teeth aren't lined up properly, that can lead to dental disease because of increased plaque and tartar accumulation," Paterson said.
Just like with humans, sometimes a pet's dental problem isn't on the surface but at the tooth's root. Paterson recommends X-ray images be taken during dental checkups.
"No matter where you get your dog's teeth cleaned, you should always get dental X-rays," she said.
Monitoring dental health is just one aspect of keeping pets healthy overall. Paterson added that staying up to date on regular checkups and vaccinations are also of vital importance. There are parasites specific to the area, such as gastrointestinal parasites, fleas and ticks, which can be mitigated through vaccinations.
"Those are things we can prevent with different products, speak again to a vet about lifestyle and what's most appropriate," Paterson said. "But don't just shrug off those things because they're definitely here."
More like this story