Prep Basketball: Lady Vols battle to 25-21 win over Mohave

Originally Published: January 6, 2018 4:23 p.m.
KINGMAN – The Lee Williams High School girls basketball team jumped out to a fast start offensively Friday night against Mohave, but saw the game turn into a defensive battle. The Lady Vols didn't let that stop them as they grinded out a 25-21 win.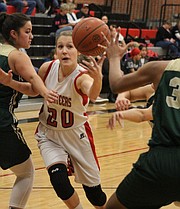 "The girls played hard," said Lee Williams head coach Jerry Arave. "We held them to 13 points in the first half. That's good, hard defense. We just missed easy shots – we missed 10 footers and wide open layups. That's why we have to play hard defense and it showed tonight."
The No. 21-ranked Lady Vols (5-4, 2-2 4A Grand Canyon Region) found their groove in the first quarter by sinking four field goals – highlighted by three treys. However, that offensive success quickly disappeared as Lee Williams converted just four total shots over the next three quarters.
The No. 24-ranked Lady Thunderbirds (3-7, 0-6) also couldn't find the basket outside of Selena Ramirez who finished with 11 points.
"(Ramirez) played really good underneath," Arave said. "So in the second half, we focused on her and told our girls, 'wherever she goes, we have to know where she is.' They did hit a couple of 3s, but she was the girl scoring in the middle."
The Lady Vols held Ramirez to just three points in the second half on a basket and made free throw. Mohave did make it interesting down the stretch though, as Madiana Duarte sank a 3-pointer and Ramirez converted one-of-two at the line to cut the deficit to 25-21 with 2:03 remaining.
Lee Williams didn't let the Lady T-birds inch any closer and held on for the victory.
Sadie Snay led the Lady Vols with 11 points, while Cassidy Torrey scored five and Kaylee Bond added three points.
"It was good to see Sadie Snay make two 3-pointers in the first half," Arave said. "That really helped. It gave us the lead and we could play being ahead."
The team has also benefited from the return of point guard Madison Arave, despite the fact she is still recovering from a broken finger on her shooting hand.
"Having Madison out here defensively and as a team leader really means a lot," coach Arave said. "The girls' confidence level goes way up when she's on the floor. She brings an inspirational lift and the girls play harder because she plays so hard defensively."
The Lady Vols are back in action Tuesday as they welcome No. 23-ranked Mingus (4-4, 2-2) to town for a 5:30 p.m. contest.
Prescott Winter Classic
Lee Williams traveled to the Prescott Lady Badger Winter Classic Dec. 29-30 and finished 1-3.
The Lady Vols picked up their lone win of the weekend in a 41-27 victory over Cooper Canyon. The score was tied 18-18 at halftime before Lee Williams outscored its opponent 15-2 in the third quarter on the way to a win.
Sadie Snay led the way with 10 points, while Kaylee Bond scored eight and Cassidy Torrey and Liberty Cronk each finished with six points.
Other game results included a 49-37 setback to Westwood, a 32-29 loss to Paradise Valley and a 47-43 setback to Mingus.
"We knew we could play with everyone in Prescott," Arave said. "If we could shoot better, we might have been in the championship game. We just missed too many shots. We took twice as many shots as the teams we played."
More like this story
SUBMIT FEEDBACK
Click Below to: