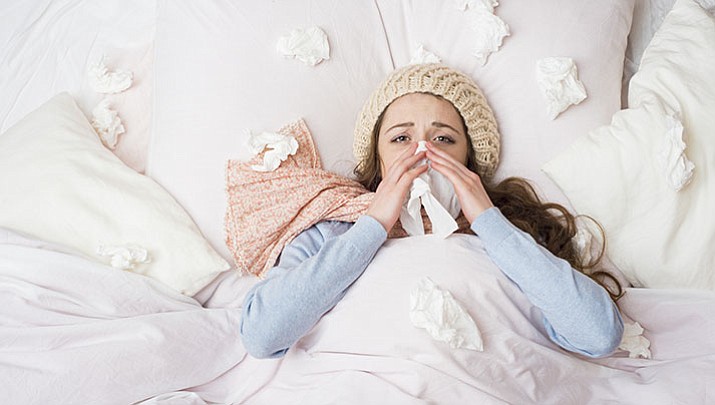 Originally Published: January 10, 2018 5:59 a.m.
The flu season has swamped the urgent care clinic at Kingman Regional Medical Center, where more than 200 patients have been treated for flu-like symptoms in the last three weeks.
By the Numbers
7,978 influenza cases reported this season in Arizona
857 percent increase over the 2016-2017 season
184 cases reported in Mohave County as of Dec. 30
203 patients have been treated at KRMC in the last three weeks
The clinic is experiencing record-high patient volumes, which means people can expect longer wait times, sometimes up to four hours, said Jennifer Rohler, manager of KRMC emergency services.
"In the emergency department, patients are treated based on severity of presentation first," she said. "You may be here for three hours and believe you will be the next patient. However, if the next person that walks in is sicker than you, they will go first."
Flu symptoms can come on suddenly with a fever, cough, sore throat, runny nose, headache and fatigue, though not everyone with the flu runs a fever, Rohler noted.
People who are otherwise healthy with no underlying issues don't need to see a doctor if they feel like they're coming down with the flu. They can take over-the-counter medication and stay home until their fever goes away for at least 24 hours without medication.
"We ask that people educate themselves regarding when to come to the emergency room and when to stay home," Rohler said. "If you are sick, please stay home to prevent further spread of the virus. There is no magic treatment to improve your symptoms rapidly."
The Centers for Disease Control and Prevention has great resources to help people better understand the flu, she added.
Spike in cases
Arizona Department of Health Services reported 7,978 cases of influenza, including 2,453 cases in the last week of December, the highest number since it began tracking the virus. At this time a year ago, there were 834 total cases, with 282 in the final week of December.
KRMC saw 39 flu patients the week before Christmas, 78 the week after Christmas and 86 in the first week of the New Year, spokeswoman Teri Williams said.
"It's spiking and we're concerned now that school starts this week we'll probably see it go even more," she said.
Mohave County has also experienced an early and busy start to the flu season, said Anna Scherzer, epidemiologist for Mohave County Public Health Department.
She's seen a recent spike in cases with 170 reports of influenza in the county through Dec. 23, a 45-percent increase from a year ago.
That's probably an underestimation of the true number because health care providers aren't required to report cases to the health department, and many people don't seek health care, Scherzer said.
"It's too early to know if the spike we are currently experiencing will translate into a peak for the season," she said. "Last year, Mohave County experienced a similar spike in activity as this same time, and it did end up being our peak activity."
Get the flu shot
The most predominant strain circulating through Mohave County and Arizona is Influenza AH3, which causes more severe illness and is the least effective component of the seasonal flu vaccine, as compared with Influenza AH1N1 and Influenza B, the county health official said.
"Pair these factors with an early start to the season, and we've got ourselves a bad year of influenza," Scherzer said.
Getting a flu shot is the best preventative measure and it's never too late, Scherzer added.
There have been reports that the shot is not as effective this year, but public health officials tracking the vaccine's effectiveness believe it may be better than the model being used in Australia, where it was only 10 percent effective, KRMC's Williams said.
Healthy lifestyle habits can also protect you from seasonal illness.
Eat a balanced diet and get plenty of sleep. Additionally, remember to wash your hands frequently, avoid touching your nose and mouth as much as possible, and clean and disinfect any surfaces or objects that may be contaminated.
People at risk
The following people are more at risk of serious complications when developing flu-like symptoms:
• Children younger than age 5, especially children younger than 2 years old.
• Adults 65 years of age and older.
• Pregnant women and women up to two weeks postpartum.
• Residents of nursing homes and other long-term care facilities.
Also people with the following conditions are more at risk:
• Asthma.
• Chronic lung disease and heart disease.
• Diabetes.
• Kidney and liver disorders.
• Weakened immune system due to disease or medication.
• Extreme obesity.