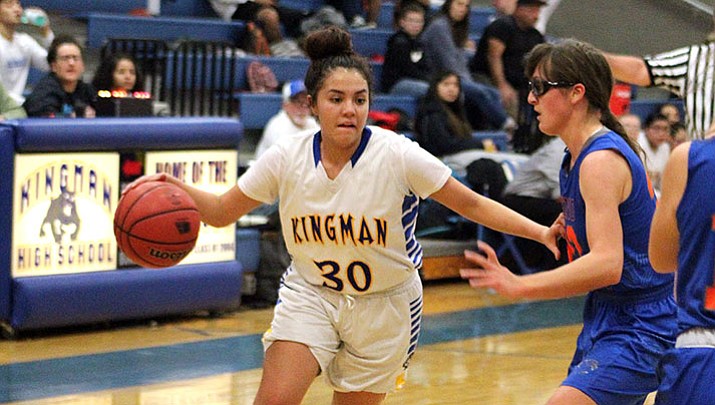 Photo by Beau Bearden.
Originally Published: January 10, 2018 1:35 p.m.
KINGMAN – It wasn't the start the Kingman High School girls basketball team wanted Tuesday night. The Lady Bulldogs scored just two points in the first quarter, but quickly responded en route to a 50-42 win over Chino Valley.
"Chino played their hearts out and they came to compete, which is what we expected," said Kingman assistant coach Hank Diaz. "But our girls wanted it more. They fought a little harder and they made the key plays at the end. They made the buckets that we needed to make."
The Lady Bulldogs especially shined from the 1:49 mark of the third quarter to the 6:18 mark of the fourth quarter, as they used an 8-0 run to take a 41-32 advantage. However, it was Kingman's success on the defensive end that allowed the offense to find the basket.
"I have to really give credit to our defense because they really forced Chino to have a really bad shooting night," Diaz said. "That's all defense right there – putting a hand in their face, getting in their grill and just frustrating them."
The Lady Cougars (4-4, 0-1 3A West) did make it interesting late in the fourth quarter as they inched within four points, 46-42, with 2:02 remaining. Diaz immediately called a timeout and told the team they needed to buckle down.
That's exactly what the Lady Bulldogs did and Sukwana Quasula, who finished with a game-high 18-points, believed they had in them.
"We knew we could hold on," Quasula said. "We just had to help each other on defense and hold the ball on offense."
Joining Quasula in double figures was Courtney Mossor with 10 points, while Tarase Marshall added seven.
Kingman (6-4, 1-1) travels to Wickenburg (3-4, 1-0) Friday for a 5:30 p.m. contest.
More like this story