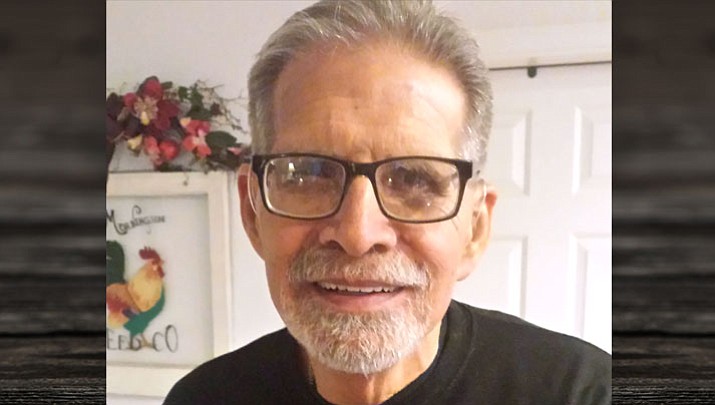 Originally Published: January 11, 2018 6 a.m.
Daniel Minjares, 73 of Kingman, passed away in the small hours of the morning on Jan. 5, 2018 after a bout with pneumonia at Kingman Regional Medical Center. He leaves behind his wife of 54 years, Molly Minjares; their son Daniel Minjares and his wife Valerie Minjares; his grandson, Lyle Minjares; and three great-grandchildren, Dorian Minjares, Violet Minjares and Jaelynn Minjares; as well as a large amount of extended family, many friends and loved ones in the local community.
He was a man of great wisdom and patience, those who knew him keenly feel his loss. Though he was never a man of many words, he always had a kind one saved up to soothe a hurting heart. He was never slow to act when help was needed. He will always be remembered as a miracle and champion to all.
Daniel was born in the Bronx, New York. He went to California to attend his senior year of school at La Puente High School. It was there that he met his high school sweet and eventual wife, Molly. They were married in West Covina, California, in the Little Chapel of Flowers in 1964. Daniel and Molly were later blessed with two children, Daniel and Maria Minjares.
Daniel worked for Pacific Telephone and eventually AT&T. His life was not without challenges. Daniel suffered from a stroke 34 years ago that robbed him of the ability to eat or walk normally. With the help and care of his wife, those challenges left him undaunted. Daniel and Molly always stood strong together through it all, even with the loss of their daughter, Maria, in 2013.
Daniel was always a pillar of strength, and his family and community will remember him for many generations to come as just that. Services will be held for Daniel on Saturday, Jan. 13, 2018 at St. Mary's Roman Catholic Church at 302 E. Spring St. in Kingman, 86401. Rosary will be held at 9:30 a.m. and Funeral Mass at 10 a.m.