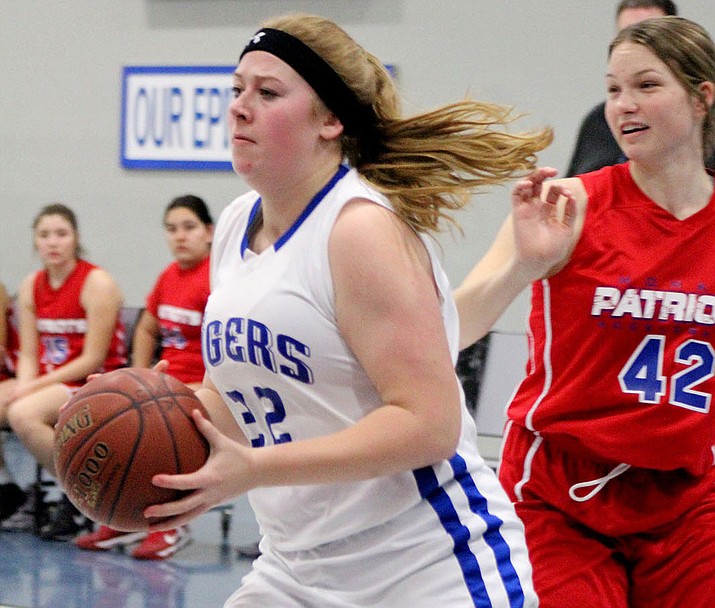 Photo by Beau Bearden.
Originally Published: January 12, 2018 12:03 p.m.
KINGMAN – The Kingman Academy High School girls basketball team appeared to be in the driver seat Thursday night with a nine-point first quarter lead. However, the Lady Tigers fell into a lull before a pep talk sparked them to a 55-35 win over Mohave Accelerated.
"I didn't like our second quarter at all," said Academy head coach Garth Steed. "I challenged them at halftime to come out and really put the intensity back in it – play like we need to play. They did coming out in the third quarter. They had a lot more intensity and they executed a little bit better."
The Lady Tigers did what their coach wanted and more with a 16-0 run that gave them a 45-19 advantage late in the third quarter. No. 33 ranked MALC (2-6, 1-1 2A West) finally stopped the bleeding, but the damage had been done and the Lady Patriots never recovered.
It could easily have been a different story for the Academy though, especially considering the second quarter struggles.
"Our defense kind of lacked in the second quarter," Chloe Elliott said. "… We were doing better than them, so we thought we could slow down a little bit. But we have to press on the gas the entire time."
Even Steed noticed that the Lady Tigers weren't themselves in the second quarter, despite the team outscoring its opponent by a slim 11-10 margin.
"MALC is way better than what our girls expected," Steed said. "I think we kind of overlooked them at the beginning a little bit, especially in the second quarter. They've improved a ton. You can't take anyone for granted."
But when it was all said and done, the Academy was victorious behind 12 different scorers. Kassidy Campbell led the way with 10 points, while Kourtney Carley scored nine and Ashlee Steed added eight points. Canya Thompson and Emily McCracken rounded out the top performers with six points each.
While the offense was evenly distributed Thursday night, Steed knows the team needs to make improvements as region play continues.
"We've been working a lot on being more patient on offense," he said. "Tuesday we did really well (in a 37-31 win over Tonopah Valley). Tonight, at times, we did well. We were impatient in the second quarter and we started chucking up shots that we shouldn't have."
Nevertheless, the 30th-ranked Lady Tigers (4-5, 3-0) remain undefeated in the 2A West Region and have already faced three of their five opponents. It's still too early to predict how the Academy fares the rest of the way as it prepares for a 5:30 p.m. road contest Tuesday at No. 22 ranked Parker (5-5, 2-0).
"If we play our kind of game, we have a good shot in the region," Steed said. "But if you take any night off, you can get beat. The level of play in our conference is probably to where you can't take a night off and overlook anybody."