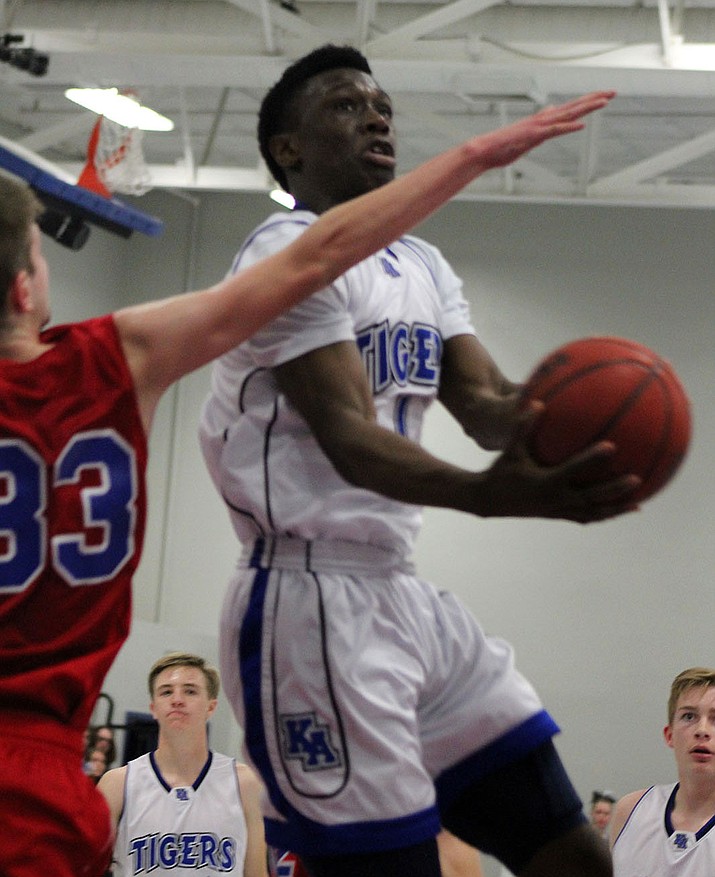 Photo by Beau Bearden.
Originally Published: January 12, 2018 noon
KINGMAN – Not often does a team find its way back into a game after scoring only two points in the first quarter. The Kingman Academy High School boys basketball team proved that it could be done Thursday night as it used a strong second half to outlast Mohave Accelerated 42-39.
"Luckily our guys have resiliency – they recognize that this is a 32-minute game," said Academy head coach William McDavid. "Once we're down a little bit, we just have to chip away every single moment. That was our plan and we executed it very well. All the credit to MALC, they got us in the mouth at the beginning, but we came back."
The key to the Tigers' comeback was an 11-0 run to start the second half, which turned a six-point deficit (19-13) into a five-point lead (24-19) with 3:25 remaining in the third quarter. The Academy may not have scored again in the quarter, but their solid defense held the Patriots scoreless until the one-minute mark.
When asked what was different about the start of the second half, Tyler Chinyere gave all the credit to McDavid.
"Coach definitely sparked us," Chinyere said. "He always hypes us up. He always says 'four-minute battles every single time.' We picked up the energy and kept on going. That's definitely what drove us."
While the Tigers held their opponent scoreless for seven minutes in the third quarter, MALC still battled back and even took a 35-32 lead with less than three minutes remaining in the game.
However, the Academy's defense came to the rescue as it pressured the No. 46 ranked Patriots (4-4, 0-2 2A West) into a number of turnovers. The Tigers capitalized on those miscues on the offensive end – putting together a 6-0 run to take a 38-35 advantage with 1:13 left in the game.
Chinyere was also instrumental for the Academy in the final quarter – scoring 10 of his game-high 17 points when it mattered the most. Even more impressive was the fact Chinyere was driving to the basket while in foul trouble.
"I knew I had to go hard even with four fouls," Chinyere said. "I knew my team was going to support me no matter what, so I was waiting for the open looks."
That's exactly what he did, highlighted by one final drive to the hoop where he made the basket and got the foul to give the Tigers all it needed for the win.
"When we get Tyler going, it's because everyone else is doing what they need to do too," McDavid said. "Tyler's scoring is a product of everyone else in our family doing what they need to do. Tyler getting collapsed allows other people to get open. Then he finds his and we all find ours."
Joining Chinyere in double figures was Aden Dunton with 11 points, while Logan Day and Kannon Butler each scored four.
The 36th-ranked Academy (4-7, 2-1) is back in action Tuesday with a road contest against No. 39 ranked Parker (4-6, 1-1). The game holds important meaning as the Tigers look to remain in second place behind No. 21 ranked Trivium Prep (5-2, 2-0).
"Trivium Prep is a great team and we're just behind them," McDavid said. "We're going to catch up and we'll love to see them when they come here (Jan. 23)."