Governor's budget plan focuses new cash on schools
Howard Fischer, Capitol Media Services
Originally Published: January 14, 2018 5:56 a.m.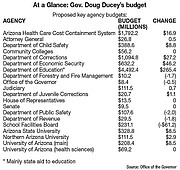 PHOENIX – Gov. Doug Ducey unveiled a $10.1 billion spending plan for the next budget year built on projections of more consumer spending, Arizonans buying more lottery tickets and hiring back many of the auditors who ensure that people are paying the state what they owe, auditors the governor previously laid off.
As Ducey promised earlier in the week, most of the new spending is earmarked for K-12 education. That specifically includes restoring $100 million to the special account that schools can use for things like textbooks, computers and buses.
The cuts to that fund started before Ducey became governor. But he added to the problem with his own $117 million reduction the first year he took office.
Ducey promises future increases to fully restore at least that specific fund.
The governor's plan also provides $34 million for the second year of the promised 2 percent over two years pay raise for teachers.
Gubernatorial press aide Daniel Scarpinato said this is on top of money schools got after voters approved Proposition 123 in 2016, creating a 9 percent increase in available dollars for teacher pay.
"Part of that has been to hire new teachers, which addresses the teacher shortage," he said, though Scarpinato said teacher pay is up 5 percent from 2015 levels.
Scarpinato could not say whether the money will come close to moving Arizona out of its position of being at 50th in the nation for pay for elementary school teachers and 48th for high school instructors, saying he prefers to focus on the trend.
"It's moving up," he said, "and it needs to move up even more."
In higher education, Ducey wants $27 million for the state's three universities to make the first payment on that $1 billion, 28-year borrowing plan for new buildings and repairing older ones. The schools already have identified funding priorities, including the School of Animal and Comparative Biomedical Sciences building at the University of Arizona, renovating the Hayden Library at Arizona State University and renovating the science annex and the multi-discipline STEM building at Northern Arizona University.
And there's another $8 million the schools get to split up for whatever capital or operational needs they have.
State aid to community colleges, though, is virtually flat.
Other spending priorities include:
• $15.8 million to fully fund adoption subsidies for more than 33,000 children. There are more adoptions because the state is beginning to cut into the number of youngsters in foster and group care, providing permanent placements;
• $4.3 million for the Department of Public Safety. That includes adding additional night coverage in the Phoenix area to watch for wrong-way drivers and 12 staffers to finally provide round-the-clock DPS coverage in Southern Arizona;
• $4 million to convert Oracle State Park from a day site to allow overnight camping. The money would add 30 RV sites, 20 cabins and 20 tent sites.
Gasoline tax?
The governor also is proposing to more than double what the state spends on "preventative road surface maintenance," essentially repairing cracks and spreading liquid asphalt. The premise is this will forestall the need for major repairs and reconstruction, things that the governor admits the state cannot now afford what with the gasoline tax unchanged since 1990 at 18 cents a gallon, vehicles becoming more efficient, and more motorists are driving hybrids and electric vehicles.
Ducey concedes in his budget that "the need for a stable and permanent revenue source to fund roads and bridges becomes even more critical." But Scarpinato said his boss remains opposed to any increase in the gas tax.
Counting on increased revenue
The governor's spending plan is built on Ducey's projections that the state will have more money coming in.
It starts with high consumer confidence. That is significant because when people are optimistic about the security of their jobs and possible future income growth, they tend to spend more.
That should translate into more retail spending. The unknown, however, is how the increasing number of online purchases may cut into that.
SUBMIT FEEDBACK
Click Below to:
More like this story