Downwinders: Survivors losing hope of compensation
Originally Published: January 17, 2018 6 a.m.
KINGMAN – Eddie Pattillo developed prostate and bladder cancer in 1997, then a few years later doctors removed colon cancer that had metastasized to his liver.
His medical bills topped $100,000 and have only gone up from there, the most recent bill coming in for about $50,000.
Pattillo, 79, is one of a few dozen survivors from Mohave County Downwinders, a group of longtime residents who were exposed to low doses of radiation from above-ground atomic bomb testing in Nevada during the Cold War.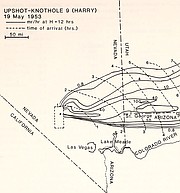 He's been trying for nearly 20 years to get financial assistance for his bills from the Radiation Exposure Compensation Act administered by the U.S. Department of Justice.
Thousands of folks in Nevada, Arizona and Utah were affected by radiation from the nuclear testing, and they have their own day of national recognition, Jan. 27, for whatever that's worth.
It wasn't until the Committee on Interstate and Foreign Commerce issued a 42-page report, "The Forgotten Guinea Pigs," in 1980 that Downwinders were recognized for health effects of low-level radiation.
"It reveals all of the cover-up the government made trying to skate around the damage nuclear testing was causing people," Pattillo said in his downtown Kingman home where he brought out a binder filled with reports and materials related to the Downwinders.
"People should get really disturbed about this and make sure something like this doesn't happen again. The government completely tried to deny any involvement."
Downwinders were among three groups of people eligible for payments from RECA. Others were uranium miners, millers and ore transporters ($100,000); and onsite participants in nuclear weapons tests ($75,000).
Those who lived in certain counties of Nevada, Arizona and Utah for at least two years from 1951 to 1962 and who later developed breast, lung, thyroid and other forms of cancer are entitled to payments of up to $50,000.
However, Mohave County has been completely ignored. It's not one of the five Arizona counties considered for government compensation.
Danielle Stephens, organizer of Mohave County Downwinders, wrote to Sen. John McCain and her congressmen, all in vain, she said.
"No, we're not the (Arizona) Strip, but Mohave County has been completely left off," Stephens said. "We hear one story after another and none of it can be true, because too many of us were in the zone. We were outside watching the plumes when we were in school."
The government detonated bombs more than 100 miles away from the desert and mountains of Kingman, but half a century later, local residents were being diagnosed with cancer caused by the fallout.
Stephens said 35 members of her family have died from cancer.
"That's what the government is hoping, that we all die out and go away," she said. "Maybe the younger ones will pick it up. It won't go away."
The first atomic bomb test at Nevada Proving Ground, now the Nevada Test Site, about 65 miles northwest of Las Vegas, was conducted on Jan. 27, 1951. It was quite a spectacle, and people would wear "protective" sunglasses to witness the mushroom cloud exploding into the sky.
"Of course, there was never any mention of any danger," Pattillo said. "They're checking for radiation. They said, 'Oh, it's so small it doesn't matter.' They had Geiger counters, is all they had. They never did have anything very sophisticated."
Stephens lived in the Aquarius Mountains where her dad raised cattle on the family ranch.
"And one time when one of those explosions went way up in the air, we were up there watching to see what we could see," she said, "but there was such a wind behind it, there was such a wind going on that my dad said, 'Get off this mountain quick. This is dangerous stuff. This is going to hurt you.'"
They rode as fast as they could to get off the mountain, but the wind caught up with them.
"It just covered us with this kind of pinkish-brown dust, and that caught us, and almost everybody riding that day wound up getting cancer," Stephens said.
After more than 90 above-ground tests, the testing went underground.
Still, researchers from the National Cancer Institute found in 1997 that the area within 300 miles of the test site was blanketed with fallout from the radiation, and they linked it to cancer cases.
"It depends on the dose you got because dose is very strongly related to risk," Ethel Gilbert, scientist with the National Cancer Institute, said in the 1997 research paper.
Pattillo, who lost his sister to cancer in 2007, said there were 100 to 150 Mohave County Downwinders at one time, but they've aged and died and most of the survivors are giving up hope for compensation.
"We're tired of thinking about it. We didn't get anywhere," he said.
More like this story
SUBMIT FEEDBACK
Click Below to: