Originally Published: January 19, 2018 6 a.m.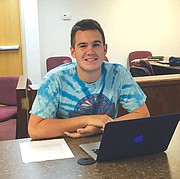 Ava is a transgender high school girl, who has yet to have any of the necessary surgeries. Ava was being bullied at her school, and in order to correct the situation, the school made a policy change. Ava liked to wear dresses to school, and the bullies zeroed in on her. The school made it a rule that boys had to wear boys clothing, such as pants or shorts. Ava refused and was suspended.
Constitutionally, was Ava denied her rights, or does the school have the right to do what it did so it can reasonably teach the many students in its charge?
That's what the students of the Marshall-Brennan Club at Lee Williams High School will be arguing at The National Marshall-Brennan Moot Court Competition in Massachusetts come March. They will be competing against 17 other teams from across the country.
"This is an awesome opportunity to compete against these other 17 high schools and upwards of 50 qualified debaters who have been working on these cases," said Chase Walther, a senior and one of the two competitors going to Massachusetts from Lee Williams. "This is a modern problem, and to take these legal concepts prepares us for civic involvement."
While the Marshall-Brennan Club at LWHS is a rare find around the country's high schools, the Lee Williams chapter is the only one of its kind within the 18 teams competing.
The national Marshall-Brennan Constitutional Literacy Project has been operating with the inclusion of law schools. The law students at these schools are the ones who go into high schools to teach and coach the participants.
Mohave County public defenders Nathan Best and Karolina Czaplinska spearheaded the drive to get the subject of law taught to high school students in Kingman.
"I'm from New York," Czaplinska said, "and my personal high school experience was such that I got almost no education in the law. For me, I feel like at a minimum you should know your constitutional rights when you graduate high school."
The Lee Williams chapter is different than the other chapters as it is the only one to have practicing attorneys as coaches.
It was the last Friday of the winter break for the high school students, and six club members pried themselves out of their beds to attend the club's weekly 7:30 a.m. meeting at the public defenders building on Fifth Street. Along with Walther, the other five students were River Sutton (competing with Walther), Kylie Cantrell, Lacy Scott, Suzanna Allred, and Marian Esplin. Best and Czaplinska have recruited retired Judge Steven Conn, Deputy County Attorney Jayme Yamaguchi, and Lee Williams teacher Cheryl Massey as coaches and partners for the club.
Suzanna Allred, a junior who wants to be a history teacher, is gathering tools from the club that she can put to use in her future career.
"This is helping me see two sides of an argument. It is showing me how I can help students open their minds," she said. "I've really enjoyed studying the Korematsu case about the Japanese internments. Morally, we know they were wrong, but in that time period it may have been the only option they saw. That's the fun for me. I like discussing the culture of the time."
The students are learning about the constitution, case law, and how to argue a case. They don't get to choose a side when they argue Ava's case. They have to present both sides of the argument in the competition.
"It's helped me become a better person," said Lacy Scott, who is a junior. "I've been able to look at things from more than one point of view. It's changed my overall outlook on things that surround me."
The students who meet with the lawyers once a month in Massey's civics class at Lee Williams and those who have added the club meeting to their schedules have felt an impact from this experience. Maybe not as much as the lawyers though.
"This is probably the happiest moment of my week," Czaplinska said. "As a public defender, we don't have many happy moments. It's grim, it's stressful. We lose a lot, and that is supposed to happen if the state does its job right.
"We see a lot of the dark side of humanity. We see people sent to prison. When we have club meeting days, this brightens our whole day. To see these kids engaged in the law – it's definitely a calling for us. It's amazing."
Training young people in the law, or at least give them a working knowledge of their rights, can make for a better society.
"It's the law. It should matter to every human being," Czaplinska said. "It's the one thing that applies to everybody. The case they're studying is an LGBT issue, which matters to some people. Race, ethnicity – those things only matter to some people. The one thing that applies to everybody is the constitution and the law."
A club that is traveling to Massachusetts for a national competition has expenses to meet. The club is holding a fundraiser from 5-9 p.m. Saturday at Chipotle, Baskin Robbins and Five Guys, 3455 Stockton Hill Road.
Getting the students prepared and to the competition is well worth the energy Nathan Best has spent.
"I walk out of here on a high note every time we meet," he said. "This is about the fundamentals, and that makes me feel good. I don't get to argue those at work. It makes me feel more American."
More like this story
SUBMIT FEEDBACK
Click Below to:
This Week's Circulars
To view money-saving ads
For as little as $3.49*