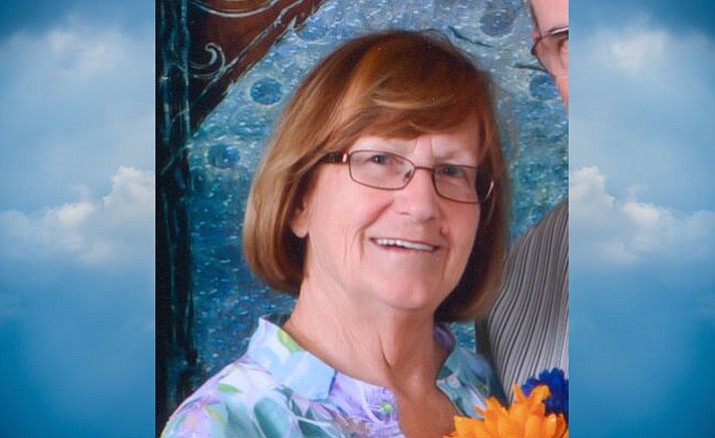 Originally Published: January 21, 2018 6 a.m.
Corliss Markee Foley rejoined her eternal love, Patrick Michael on Jan. 9, 2018. That day in Kingman, the heavens cried with rain as she passed peacefully, surrounded by family both near and with those afar in her heart.
Born to Ivan Markee and Wilda Delap in Woodstock Illinois, Oct. 6, 1943 Corliss was only 2 years old when the Markee family decided Kingman Arizona would be their new home. Although her childhood was filled with the hardships of the times (poverty, rheumatic fever, polio…) she always fondly recalled her upbringing and the closeness of her family, which remained close/connected throughout their continuing lives. Her elder sister Ginevra, brothers David, Allen and Bruce precede her in death and her younger siblings Elyse Siokos, Faye Pipps, and Gary Markee survive her, each Kingman residents today.
Corliss took on the responsibility of wife and mother as an occupation, and she took her occupation seriously. She was determined her family and community would get all they could expect from a giant 5-foot Kingmanite; and a giant difference she made for those about her.
Corliss met the charming Irishman and love of her life, Patrick Foley on a Saint Patrick's Day and married him just five days before he left for service in Vietnam in 1965. Fifty years of happy marriage included three healthy sons, Patrick, Jim and Kevin, five grandchildren, and three great grandchildren.
Her countless contributions and special connections include: The Valley National Bank Ladies who got her through her husband's service in Vietnam each day and remained friends always. The Kingman Dolphin Swim Team, which Corliss selflessly gave decades of her life to the organization and children involved. The Cub/Boy Scouts of America which benefitted all in her community. A pioneer organizer for "Operation Prom-Graduation" encouraging and establishing a drug and alcohol-free environment for students. She was also a longstanding member of the Beta Sigma Phi sorority and enjoyed the community outreach they participated in.

The Foley family invites her friends and neighbors to join us in a celebration of Corliss Foley's life, tentatively scheduled for mid-March at a Kingman location to be later announced. Please come and share your experience of having this amazing woman in your life. In lieu of flowers, please make a donation to the charity of your choosing in Corliss Foley's name.
Arrangements were placed under the care of Lietz-Fraze Funeral Home and Crematory.
Thoughts and condolences may be submitted to the family at www.lietz-frazefuneralhome.com To send a FREE Card to the family go to www.sendoutcards.com/lietzfraze.