KPD's DeVries named Police Chief of the Year
Originally Published: January 24, 2018 5:56 a.m.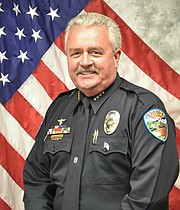 KINGMAN – Robert DeVries, chief of Kingman Police Department, was honored Friday as 2018 Chief of the Year by the Arizona Association of Chiefs of Police.
DeVries was recognized for his service to AACOP, the community of Kingman and his accomplishments over 40 years in law enforcement.
DeVries served on AACOP's accreditation committee and helped develop a statewide accreditation program. Following a presentation in November, the Arizona Risk Pool voted to partner with AACOP and assist in funding the Arizona Law Enforcement Accreditation Program.
The program recognizes accredited agencies that have adopted and implemented best practice policies, procedures and training throughout their department.
DeVries was presented the Chief of the Year award at AACOP's annual board installation and general membership meeting in Mesa. He was accompanied by his wife, Laurie, son, Aaron, and granddaughters, Kenzie and Maddy, as well as staff members.
DeVries joined KPD in May of 2003 after serving over 25 years with the Holland, Michigan, Police Department.
He completed the Southwest Leadership Academy hosted by the University of Arizona and is a graduate of the Southwest Command College sponsored by the FBI Law Enforcement Executives Development Associates.
He leads the Mohave Area General Narcotics Enforcement Team (MAGNET) and is president of the Western Arizona Law Enforcement Association representing law enforcement agencies in Mohave, LaPaz and Yuma counties. He is an active member of the Arizona Association of Chiefs of Police, serving as president in 2009.
More like this story
SUBMIT FEEDBACK
Click Below to: