No Need to Get Your Feathers Ruffled
2018 is "The Year of the Bird"
Linda Khachatoorian, Special for the Daily Miner
Originally Published: January 24, 2018 6 a.m.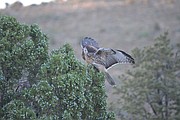 Birds are a common sight wherever you go. Our city parking lots are highly popular locations to find common rock pigeons and grackles. It seems as though they are the only birds around town, unless you take the time to look and learn. Residents and visitors do not need to travel very far to view a wide range of native bird species. Just take a trip downtown to Kingman's Metcalfe Park.
There are more than 88 bird species that may be observed year-round in our very own downtown area. Metcalfe Park is identified online as "hot spot L857864." Bird watching can be included in many everyday activities and may be an inexpensive new hobby to explore. There are traditional pocket bird guides featuring Arizona native birds. A good place to look for them locally can be the Mohave County Museum Gift Shop or the Powerhouse Visitor's Center. The advent of the internet allows for easy bird identification on reliable resource pages such as Audubon, eBird or the Cornell Lab of Ornithology. The local library has computers for people that do not have internet service at home.
New bird watchers may become familiar with common species and are encouraged to keep a list of the birds they observe. At first it may be difficult to identify the type of species you see. Take some notes about their shapes, color patterns, size, flight behavior and where the bird is observed. This information will help you identify the bird species when you have time to check a book or website.
Native birds do not like to be close to humans, requiring observations to be made from a distance. The acquisition of a pair of binoculars does not need to be expensive. There are numerous styles of binocluars available locally and can be a gift item for the new bird watcher. Some binoculars have features to allow for digital photography. If binoculars are not in the budget, observations can be improved by wearing clothing that blends into the surrounding area, sitting quietly and decreasing movement.
You may also hear the bird in flight or chirping or singing. If you have a phone that takes pictures or video, use it, or make additional notes. Include the date, time and weather and location of your bird sightings. These records may provide interesting data in the future. Internet websites contain bird recordings to help you identify and learn their recognition.
For the past 100 years native birds have been protected by the Migratory Bird Treaty Act. Before their protection, the bird population in the United States was destroyed by the demand for bird feathers. Fashionable trends in the early 1900s created the problem as women's hats were elaborately decorated with the plumes. Many common bird species were on the brink of extinction. The United States signed treaties with Canada (at that time it was still part of the British Empire) and later with Mexico. Eventually treaties were signed with Japan and the Soviet Union to further protect migratory birds.
An analysis of species trends allows researchers to identify the success of conservation programs when populations rise. It also allows scientists to develop programs to understand the decline of some common species. An example is the once abundant American Kestrel (Sparrow Hawk) that once filled our continent. Drastic population declines of the American Kestrel have been documented and citizen-scientists have joined researchers in the Western Hemisphere to discover the reason. The American Kestrel Partnerships coordinated by The Peregrine Fund includes participants in Arizona such as the Arizona Game and Fish Department and locally by Keepers of the Wild.
Amateur bird watchers from around the world have become the eyes and ears to document bird species and populations for the scientific community. Becoming a citizen-scientist is fun and fullfilling. You do not need to be an expert to contribute to scientific research and can include family members or friends as team members. Every year thousands of citizen-scientists participate in the Great Backyard Bird Count. The four-day February event allows people from every part of the world to collect information for at least a 15 minute period. The information is entered online into a database for researchers to understand the worldwide status of the various species. This year the Great Backyard Bird Count is held Feb. 16-19.
The development of more amateur bird watchers documenting their observations may also draw ecotourism to the Kingman area. Birding "hotspots" such as Metcalfe Park can become a reason for travelers to take an exit from the highway to stop and make their own observations. Local birders may choose to record observations at area hiking trails and desert wildlife water holes to develop additional "hotspots" throughout Mohave County.
Developing more Certified Wildlife Habitats in Mohave County will also contribute to annual bird populations. The AZGFD and the National Wildlife Federation have guidelines for planting native vegetation to help keep common species common. Mohave County could become an ecotourism destination as visitors travel the Mother Road.
Keepers of the Wild is offering a wildlife education program at the nature park on Route 66 at mile marker 87 Saturday at 11:30 a.m. The program will further explore the opportunities for local birding and conservation. The Informal Environmental Education program received funding from the AZGFD's Heritage Fund Grant. For further information contact: 928-769-1800 ext. 28.
More like this story
SUBMIT FEEDBACK
Click Below to: