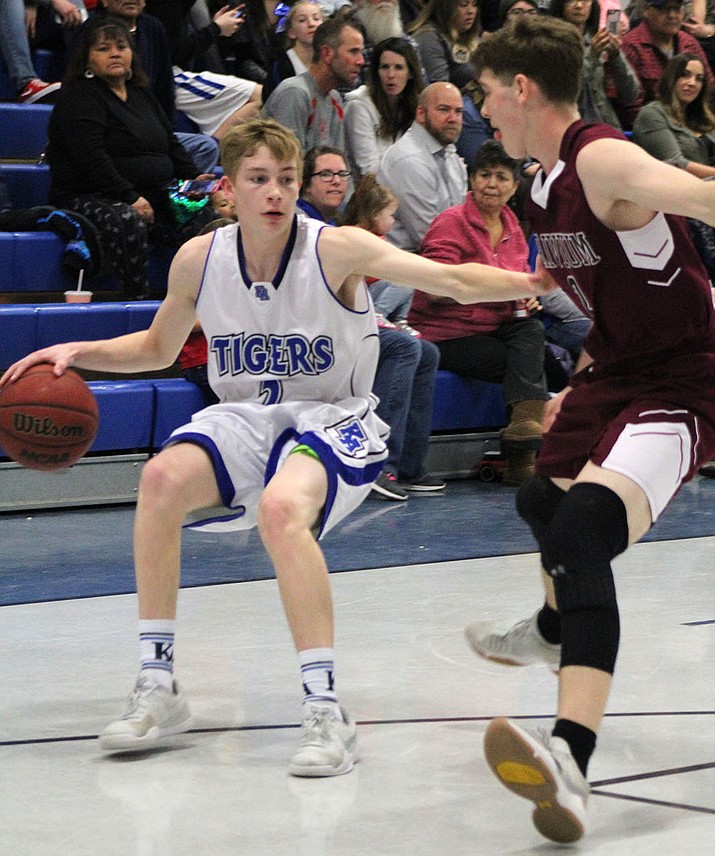 Photo by Beau Bearden.
Originally Published: January 24, 2018 2:13 p.m.
KINGMAN – With the Kingman Academy High School boys basketball team trailing by three points at halftime Tuesday night, head coach William McDavid and his staff challenged the Tigers to play a solid second half.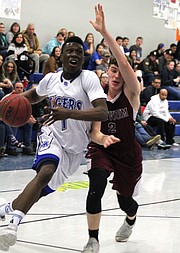 The No. 38 ranked Academy did just that, highlighted by an 11-0 third-quarter run that propelled them to a 60-55 upset victory over 19th-ranked Trivium Prep.
"I told our guys, 'You have to come out even stronger.'" McDavid said. "First half was good. Now let's be great. Our guys did it with their defense. We tell them all the time, 'A great defensive possession leads into a good offensive possession and then that snowballs itself into a great thing.'"
The defense definitely came to play in the second half as the Tigers forced the Knights into bad passes that resulted in turnovers and easy baskets.
More importantly, it pushed a 33-30 deficit at the 5:13 mark of the third quarter into a 41-33 advantage with 1:05 remaining in the quarter.
"We really came together, especially in that third quarter," said the Academy's Bradley Hecker. "It's late in the year, but we're really coming together as a team and a unit. We came out with a lot more intensity."
Hecker not only played a role offensively with 17 points, but he was also instrumental for the Tigers on the defensive end. Trivium's top two 3-point threats – Tommy Roberts and Jake Taylor – combined for five treys in the first half, but then made just two in the second half.
"Our guys Stevie Wusstig and Bradley Hecker did a great job of covering (Roberts and Taylor) once we recognized how to work through those screens," McDavid said. "Then down the floor, we took care of the ball on our end."
The Academy's Tyler Chinyere made sure those scoring opportunities turned into points as he tallied 17 of his game-high 30 points in the second half. Nate Perea finished with 11 points and Wusstig rounded out the scoring with two points.
While only having four Tigers in the scorebook could potentially be an issue down the stretch, McDavid wasn't worried about it.
"We're a team that prides ourselves on family," he said. "Family sometimes gets caught in the idea that everyone needs to score. But not everyone needs to score the ball, as long as we get more points than the other team – we're doing our job. Everyone has a job and a role. The scorebook only shows half the story."
The stat sheet does, however, show Perea scoring two points after his steal with 35 seconds remaining in the fourth quarter that sealed a win for the Academy (6-8, 4-2 2A West Region) over previously undefeated Trivium (8-4, 5-1).
The Academy is back in action at 7 p.m. Friday at No. 33 ranked Tonopah Valley (6-6, 2-3).