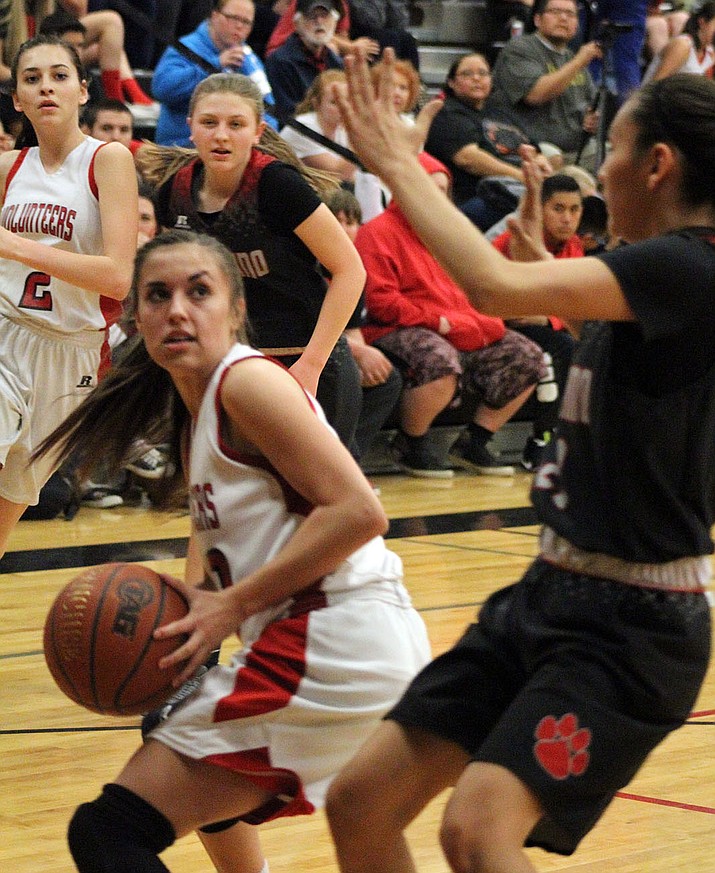 Photo by Beau Bearden.
Originally Published: January 26, 2018 4:30 p.m.
KINGMAN – The Lee Williams High School girls basketball team had a slight advantage entering its contest Thursday night against No. 5 ranked Coconino. The 19th-ranked Lady Vols had eight days to game plan and it showed in the first half before they ultimately dropped a 33-27 loss to the Lady Panthers.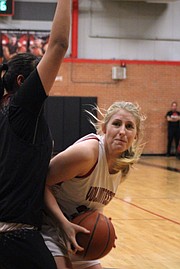 "We had all week to prepare – we knew what they were going to do," said Lee Williams head coach Jerry Arave. "You can see our defense is our bread and butter. We just have to find a way to score. Even when we play great defense and get steals, we don't capitalize and get buckets out of it. We'd miss the layup or bobble the pass. But we played really tough tonight."
The Lady Vols definitely gave it their all and even led by three points, 19-16, at halftime. But the second half wasn't kind to Lee Williams as it sank just one basket from the floor and scored the rest of its points from the free-throw line.
Interesting to note, however, is the fact the Lady Vols went 6-of-13 from the charity stripe in the second half compared to Coconino making 9-of-22.
The difference was the Lady Panthers making four field goals in the second half, including two to end the third quarter that gave them a 25-21 advantage.
Cassidy Torrey did bring Lee Williams within four points, 30-26, with 1:52 to play, but the Lady Vols couldn't get any closer in falling to Coconino (14-2, 9-1 4A Grand Canyon Region).
"Our defense kept us in the game," Arave said. "We were shooting decent and then in the second half, we just couldn't make shots. We missed some open shots, a couple of chippies underneath and some wide open 3s."
Madison Arave led Lee Williams with seven points, while Sadie Snay scored six and Kaylee Bond and Torrey each chipped in four points. Coach Arave was still proud of the Lady Vols' effort despite the setback.
"To only lose by six points and Coconino is the No 5 ranked team in the state – I'm really proud of the girls," he said.
Lee Williams (7-7, 4-5) returns to the court today for a 5:30 p.m. contest at No. 23 ranked Prescott (5-8, 2-6).