Prep Basketball: Vols struggle offensively in loss to Coconino

Originally Published: January 26, 2018 4:21 p.m.
KINGMAN – It wasn't the start the Lee Williams High School boys basketball team wanted Thursday night during its annual Silent Night game. The fans in attendance were silent until the Vols scored their 11th point, but that didn't happen until early in the second quarter of a 56-39 loss to 10th-ranked Coconino.
"That's just how our team is – we struggle to score," said Lee Williams head coach Cain Atkinson. "We're not just very offensive-minded guys. (But) the Silent Night game is a lot of fun. It's obviously for a great cause, which is why we do it."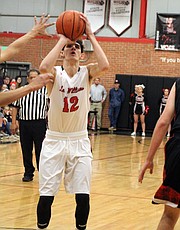 However, Atkinson did mention that he wishes it didn't take a special occasion for the Vols to get the support they received Thursday night. There wasn't an empty seat in the house and many fans were crowded on the left and right of each basket.
Nevertheless, once the 11th (and 12th) point was scored on AJ Herrera's 3-pointer, the Lee Williams fans went into a frenzy despite the Panthers holding a 21-12 advantage.
It wasn't until the third quarter that the Vols made it interesting – using a 6-0 run to cut their deficit to five points, 34-29, at the 4:33 mark.
Coconino (14-2, 9-1 4A Grand Canyon Region) made sure that was as close as Lee Williams could inch and cruised to victory.
"Coconino is a good team," Atkinson said. "They're extremely well-coached. Quite honestly, that's probably one of the best coached teams that we've played all season. That guy (Mike Moran) does a really good job. His kids play hard and they play defense – that's a talented, good team."
The Panthers had three starters score in double figures, while Herrera led the Vols with 11 points. Drew Cardiff and Kade Juelfs each chipped in six points, followed by Tony Luna and Diego Narvarte with five points each.
On a positive note, Lee Williams' Marco Narvarte saw his first action since suffering an injury against Flagstaff on Jan. 12.
"He wanted to play," Atkinson said. "In his senior year, I'm not going to tell him no."
Unfortunately, Narvarte wasn't as effective as he was earlier in the season and didn't score. But Atkinson knew it meant a lot to the Vols, even though they haven't been same as of late.
"Marco is the heart and soul of this team," Atkinson said. "I just feel guys' attitudes are a little bit down since he got hurt."
Lee Williams (5-8, 2-5) travels to No. 19-ranked Prescott (8-7, 4-4) today for a 7 p.m. contest. While making the state tournament is a long shot at this point, Atkinson is more focused on the team showing its grit.
"We've just had a little bit of adversity," he said. "We probably haven't bounced back from that adversity as well as we should have. But I do think that they still play hard and I care about them a lot. I really do love this team."
More like this story
SUBMIT FEEDBACK
Click Below to:
This Week's Circulars
To view money-saving ads
For as little as $3.49*