Prep Wrestling: Vols get dual victory over crosstown rival Bulldogs

Originally Published: January 26, 2018 6 a.m.
Photo Gallery
Wrestling: Kingman vs. Lee Williams - Jan. 24, 2018
The Lee Williams wrestling team picked up a 62-18 win over Kingman High Wednesday night during a dual meet. Estrella Foothills, Lake Havasu and River Valley high schools also competed at KHS. Photos by Beau Bearden.
KINGMAN – No other high school sport is as personal as wrestling.
Grapplers can't turn to their teammates for help and the weight of victory is on their shoulders. That was the case Wednesday at KHS as the Lee Williams wrestling team picked up a 62-18 win over Kingman at KHS.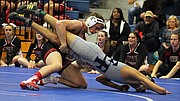 "With it being a hometown rivalry, the kids definitely wanted it," said Vols head coach Dan Ondrejka. "Kingman High showed up and wrestled great. I really like what they're doing. They have some really good kids over there with heart. If they keep wrestling tough, they're going to be fine."
The Bulldogs didn't get the victory, but they did show positive signs with three wins. Kingman's Lucas Drummond battled Lee Williams' Kobe Hales for three rounds before getting a pin.
"The difference was just being more aggressive," Drummond said. "He was really putting it on me and then I just kind of woke up. The crowd gave me a lot energy."
Fellow Bulldog Ramon Chavez, who is 40-8 this season, defeated Lee Williams' Michael Mazon in the first round by pin. Chavez may have won, but he was looking forward to a match with Jimmy Wayman. However, Wayman is at 145 pounds and Chavez recently moved up to 152 due to him having to cut a lot of weight in between weeks.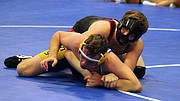 Nevertheless, Chavez still showed everyone how far he's come this season.
"This home meet so close to the end of the season actually shows the teachers and my other friends the progress I've made," Chavez said.
The Bulldogs haven't been as lucky overall though, as they're down to just nine wrestlers. Kingman head coach Brandon Clor was still glad to see Jason Sorenson round out the victories against Lee Williams with a first-round pin of Kris Ashton.
Kingman's Paul Jones also won two matches by pin against Lake Havasu and Estrella Foothills, while Kenneth Becker pinned his Estrella Foothills opponent.
"The biggest thing is we need to be more competitive in the matches we do have," Clor said. "I was really happy with Ramon, Lucas and Jason. But we need to get our younger guys more competitive."
While it didn't show in the results, the Vols are also young and Ondrejka knows they need to keep growing. Lee Williams is well on its way as it went undefeated against four teams – 46-30 over Estrella Foothills, 65-15 over River Valley, 42-33 over Lake Havasu and 62-18 over Kingman High.
Wayman and Dylan Shaffer (170) also won all of their matches, while John Montoya (160), Zach Dixon (113), Christian Muhr (106), and Hunter Sturgill (138) finished 3-1.
Shaffer, who is 44-5 this season, battled Kingman's Paul Jones at 182 rather than his usual weight class.
"He was pretty strong for his weight," Shaffer said of Jones. "It was hard to work him, but I just had to hold on. The weight difference makes for quite a bit more muscle."
Shaffer wanted to bump up so he could stretch his variety and adapt better against different types of wrestlers. It wasn't easy though, as the match went three rounds before Shaffer picked up the 13-0 win.
"Sectional matches mean a lot to me," Shaffer said. "I have to come in with the right energy, especially here at home – where all these people and families are seeing me."
Wayman also thrived in front of a friendly crowd to improve to 42-5 this season.
"I love this atmosphere," he said. "I just like looking out at the crowd, seeing all the people from my town that I know."
Lee Williams and Kingman return to the mat Saturday for the Colorado River Dual in Parker.
More like this story
SUBMIT FEEDBACK
Click Below to:
This Week's Circulars
To view money-saving ads
For as little as $3.49*