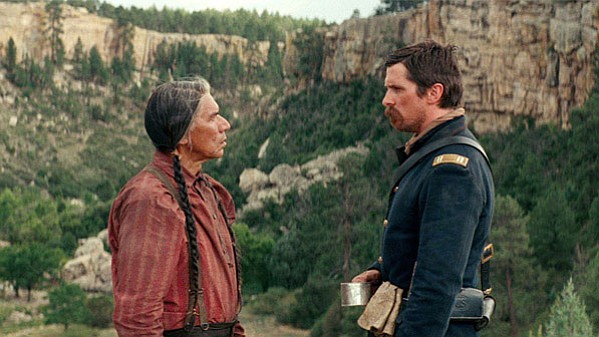 Originally Published: January 29, 2018 6 a.m.
"Hostiles" is a story of imbalance. The year is 1892 and Captain Joseph J. Blocker (Christian Bale) is ordered to escort cancer-ridden Chief Yellow Hawk (Wes Studi) from Colorado to Montana under the orders of the President of the United States as an effort to allow the old Chief to die on his home land. Along the way, Blocker and his squad encounter a widower who has lost her family to a band of Comanche Nation raiders. Simple. Except Blocker is possessed by a seething disdain for Native Americans.
On one end of this teetering, continuum, the audience is introduced to the Northern Cheyenne family: The Chief; his son, Black Hawk (Adam Beach); his grandson, Little Bear (Xavier Horsechief); his daughter, Living Woman (Tanaya Beatty) and his daughter-in-law, Elk Woman (Q'orianka Kilcher). They are stoic, well-mannered, and helpful when situations get dicey for the soldiers. On the opposite wobbly end, the audience is introduced to Blocker: A battle-hardened soldier who holds a bigoted contempt for Native Americans. Channeling Robert Duvall, Bale portrays a man who has seen the worst and doled the worst. He is unapologetic about the lives he's taken and refuses to succumb to sympathy for the plight of Native people. Somewhere in the messy middle, the audience meets Rosalie Quaid, who is a mother of two daughters and wife to a budding pioneer. There is also an African-American lieutenant, Woodsen who has no hesitation putting an oppressed family in chains; Sergeant Metz (Rory Cochrane), who has been diagnosed with "melancholia" and deemed unfit for killing and Sergeant Willis (Ben Foster), who is charged with murder for the indiscriminate killing of a Native American family.
Working with consultants Chris Eyre, Dr. Joely Proudfit and Chief Phillip of the Northern Cheyenne Tribe, director, Scott Cooper, attempted to provide an authentic linguistic and cultural representation of the fictitious Yellow Hawk family of the Northern Cheyenne Tribe in 1892. This dedication to legitimacy was superb. While so much consideration was given to the language and customs of the Northern Cheyenne Tribe at the turn of the century, no respect was given to the story of their plight as a disenfranchised people during this period. The imprisoned family is nothing more than an accessory to the pretty lead characters' teachable moments.
Lamentably, impressive cinematography, tantalizing vistas, meticulous costuming and a powerful musical score are not the perfumes for an odious plot. With all the means to goad a Western-film revolution, "Hostiles" surrenders to the genres conventions: A "savage" band of Natives kills an innocent pioneer family. A surly bigot must endure a regional voyage with the detested ethnic group before they are redeemed by the compassion of said marginalized group. In "Hostiles", we see the unprovoked blood-thirsty attack by a band of the Comanche Nation. The fawn-haired children collapse into the prairie grass. The blonde-haired widow hides in despair. However, we never witness the corresponding scenes where unsuspecting Native families are massacred by soldiers after unenforced treaties and empty policies. We are simply left to imagine those gruesome scenes as Blocker and Metz chuckle about their Native American kills over glasses of whiskey. Ah, memories. Thus, the narrative of the savage Native and the justified pioneer descendants continues.

While Bale delivers a well-paced role of redemption, Rosamund Pike steals each scene as she personifies the emotional torment of a mother who is eviscerated with grief. Pike's delivery jars the soul and Blocker's coddling of her psychosis is unnerving. Following another "savage" tragedy that is committed against the traveling group's women (we aren't afforded that visual because it's not committed by Native American men), Elk Woman and Living Woman's compasion and camaraderie bring Widow Quaid back to a place of balance and healing. Unfortunately, her presence does not afford them the same outcome. Veteran actor Wes Studi has no equal. Despite limp character development and anemic lines, Studi bares rousing leadership and grace. Black Hawk is forgettable and relegated to the sidelines, yet Adam Beach is tasked with carrying one of the most important characters in the film – the language of the Northern Cheyenne Tribe.
"Hostiles" attempts to take the story of this nation's imbalanced social proportions and dispense a message that we are all hostiles, but arduous communion and shared drudgery can bring understanding among opposing experiences. It falls short of that message by bequeathing major screen time, introspection and devotion to only one version of that experience. Luckily, there is a happy ending for the two pretty lead characters…and only the 2 lead characters. In 2018 Hollywood, that's still really all that matters.
Western Film Aficionados: 4 out of 5 Miners
Lovers of Western-Romance: 4 out of 5 Miners
Woke Film Goers: 1 out of 5 Miners