Originally Published: January 30, 2018 5:52 a.m.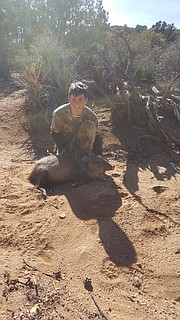 As the youth-only javelina hunt heads into the second week, one brother and sister will be sitting on the sidelines as they have already filled their tags.
Dillon and Kaitlyn Whittington are no strangers to javelina hunting, they have each has bagged three of these porkers.
Dillon is 15 years old and attends Lee Williams High School. Kaitlyn is 14 years old and attends the Kingman Academy of Learning. Both enjoy spending time in the great outdoors and like to hunt javelina. Dillon and Kaitlyn's parents are Del and Kara Whittington.
This year they both drew a youth-only tag for a seven unit hunt that included Unit 18A. There were 150 tags available.
Hunting with their father, Del, and friend Gary Siegfried, they not only got their javelina just hours apart, but they bagged them exactly one year to the day that they had bagged their javelina in 2017 in Unit 18B.
Their father said that they had found three different herds of javelina during the two days that they were in the field. Each herd had an estimated 10-15 animals.
Dillon got to hunt on the opening day of the season but it would be the second day of the hunt before he and his sister would be in the field.
As it turned out, the pair each bagged a pig out of different herds. Both bagged adult sows, and both used the same rifle, a 204 Ruger.
"It was cold and the pigs stayed brushed up until about 10," he said.
Del also mentioned that they used a Primos javelina call to being in one group.
"We spotted them on a far-away ridge and when Gary started calling, here they came," Del said.
Dillon bagged his pig at 220 yards, while Kaitlyn got hers at about 100 yards.
One thing that made this hunt especially satisfying was watching as each youngster field-dressed their own animals, Del said.
"It was kind of neat to just stand back and watch as they took care of their own animals," Del said.