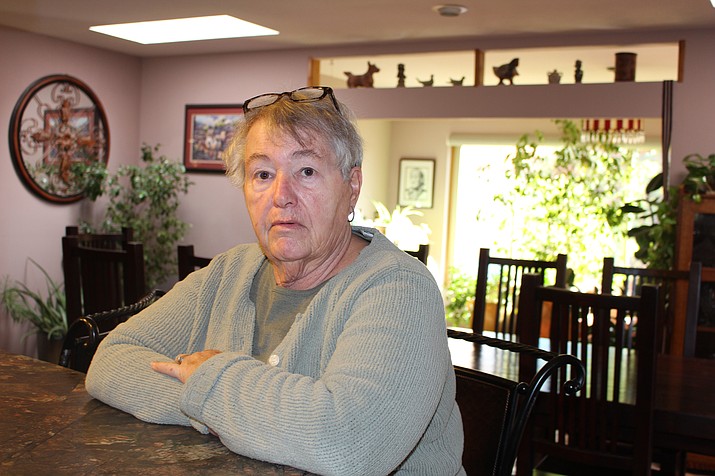 Photo by Hubble Ray Smith.
Originally Published: January 30, 2018 6 a.m.
Growing up in a stable household with biological parents who were well educated and always employed, Molly Woods never encountered the abuse, neglect and irresponsibility that twists the fate of some 570 Mohave County children who are in state custody.
It wasn't until she volunteered to be a Foster Care Review Board member for Arizona Supreme Court's Department of Child Services about 20 years ago that she became aware of their sad situations.
They've been removed from their home, usually because mom or dad is in jail, addicted to meth or heroin, alcoholic, unemployable or for whatever reason can't provide a safe and healthy home for their child.
"I'd never seen this before," Woods said at her home in the SoHi neighborhood of Golden Valley where she's lived with her husband, Jim, for 30 years. "They've got no job, little education, plus coping with little children leads to escapism."
Woods is part of a five-member Foster Care Review Board that meets with case workers, biological and foster parents, counselors, mental health professionals and others to make recommendations on what to do with these children who range from infants to 18 years of age.
Not all kids come from poor and broken homes. Some are from middle-class families, and then it's usually a drug problem with the parents, Woods said.
"Mostly drugs. It kind of goes hand in hand," she said. "A lot of times we only see one parent. Say the mother has a long prison term and the father hasn't been in the picture. He doesn't know what's happening. He has to establish paternity through legal means or be on the birth certificate to work out a program with DCS to get the child returned to him, and that happens."
Charlie Gray, supervisor of Foster Care Review Board for the Arizona Supreme Court, said he needs five volunteer board members in Kingman and another five in Bullhead City. FCRB has about 140 boards and 600 dedicated volunteers statewide.
Board members are appointed by Mohave County Juvenile Court Judge Rick Williams to three-year terms and can request to be reappointed at the end of their term.
They commit to one meeting a month to review cases until permanency is achieved. That can be when children are returned to their home, adopted, granted guardianship or age out of the system.
A packet of information on each case is mailed to board members about 10-14 days before the review date.
"Board members review the case material that includes progress reports, case plans, service participation documentation and CASA (Court Appointed Special Advocate) reports," Gray said. "The board makes recommendations regarding services and permanency options to the Juvenile Court and interested parties in the case."
Kingman board members meet in a conference room at the County Administration Building. As each case is reviewed, social workers, parents and court-appointed counselors can address the board with their concerns, successes, wants and needs.
The board identifies problems and makes recommendations for the court, with a written report from a FCRB specialist detailing statements made at the meeting and recommendations made by the board.
The report is forwarded to Juvenile Court and mailed out to everyone with an interest in the case.
Woods, who grew up in Oregon and followed her geologist husband around the country, said she volunteered for the Foster Care Review Board to "give back" to the community.
"Because there's a need. I don't know any of the kids of the families, or I'd have to recuse myself. We take information from each agency involved and make a recommendation to courts on what should be done," she said. "We try to be objective and make sure kids get what they need and are well cared for. A lot of kids need help educationally."
Volunteering on the Foster Care Review Board can sometimes be a positive experience, Woods said. The goal is to reunite the kids with their biological parents, and the state has changed its philosophy to keep families together whenever possible.
"If a parent is really trying and can visit the child in the foster home, that's a really positive thing," she said. "A lot of times they meet at a neutral place, depending on how the parent's doing and what DCS thinks is best for the kid."
The department tries to provide more in-home services from agencies such as Catholic Charities. Parents learn basic things like changing a diaper, cleaning house, how to get a job and how to deal with phases children go through as they grow up.
Kingman has two Foster Care Review Boards, and each is short on members.
"I think it's a public service," Woods said. "It's a needed service and we do feel we have some influence with the courts because the judge reads our recommendation and we are looking out for the interests of kids, at least we try to. We like to think we're making a difference."
Anyone interested in volunteering for the Foster Care Review Board in Mohave County can call 602-452-3400 or 1-866-320-1959 (toll free), or go to www.azcourts.gov/fcrb/Volunteer.