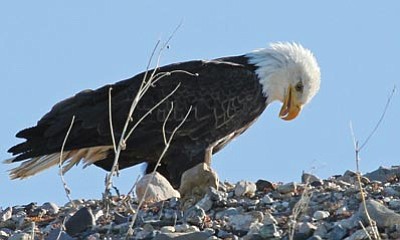 Originally Published: January 30, 2018 5:54 a.m.
Deadline today for paper applications for elk, antelope
Today is the deadline to apply for 2018 elk and antelope tags using paper applications according to the Arizona Game and Fish Department.
Applications will be accepted at all the Regional offices of the Department until 11:59 p.m.
Those who utilize the online system to apply for elk and antelope tags will have until Feb.13 at 11:59 p.m.to apply.
Bald eagle count at Lake Mead is highest in 5 years
LAS VEGAS (AP) – National Park Service officials recently counted 137 bald eagles and five golden eagles at Lake Mead – the highest number in the area east of Las Vegas in five years and above the 10-year average.
The team was one of eight groups surveying bald eagles across Lake Mohave and Lake Mead as part of a national survey. The study was designed to track the population and distribution of a species that was close to extinction in the Lower 48 states when it was listed as endangered in 1967, the Las Vegas Review-Journal reported .
The survey began in 1979. The recreation area began participating in the survey in the 1990s.
Thanks to widespread habitat protection and the elimination of the pesticide DDT, the population rebounded from fewer than 500 nesting pairs in the Lower 48 to 20,000 birds by 2007, when the species was dropped from the endangered list.
Starting in mid-November, the 3-feet tall birds with wingspans of 6 to 7 feet travel to Nevada from the north. They stay for about two to three months and leave in mid-February.
More like this story