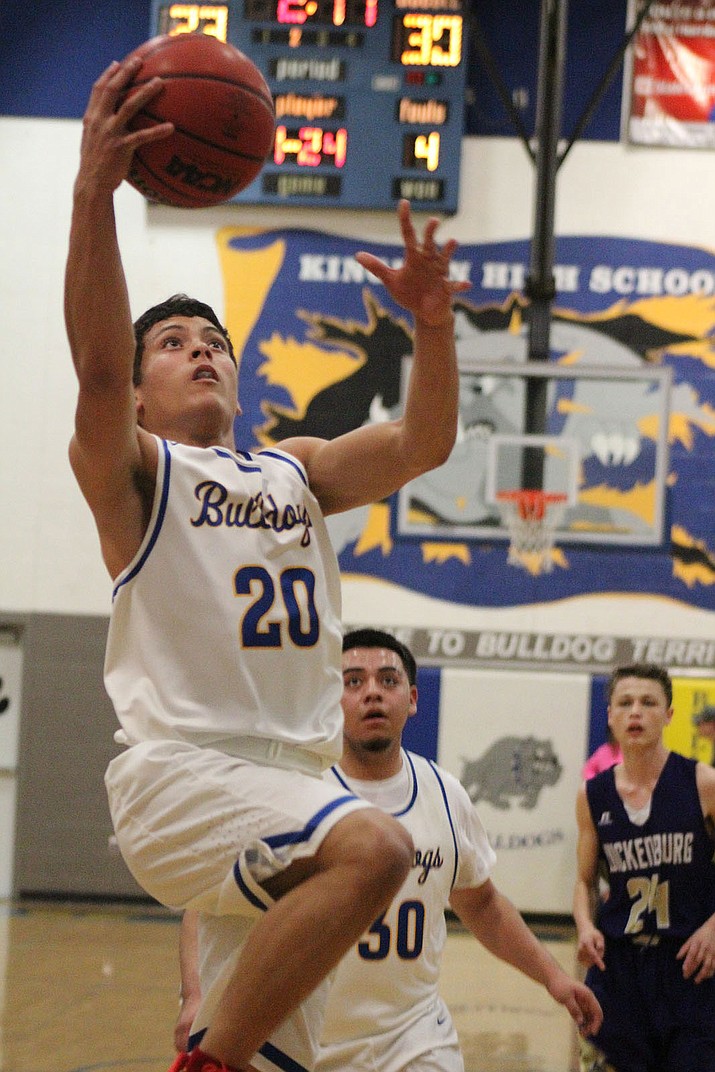 Photo by Beau Bearden.
Originally Published: January 31, 2018 6:51 a.m.
KINGMAN – Not often does Kingman High School boys basketball coach Nick Juby want his team to spend too much time dwelling on a game. Whether it's a win or a loss, it's on to the next one for the Bulldogs. But that wasn't the case Tuesday night following a 63-62 setback to 17th-ranked Wickenburg.
"I told them, 'It's going to hurt a little bit, so you can go ahead and hurt tonight,'" Juby said of his postgame speech. "... if I had to do it over again – 100 times out of 100 I'm not calling timeout and I'm letting Elijah take the ball."
Juby was speaking of Elijah Howery taking the ball up the court with Kingman trailing the Wranglers 63-62 with 11 seconds remaining. Juby had a 30-second timeout in his pocket, but decided to let Howery run the offense. It nearly paid off, but unfortunately the Bulldogs came away empty-handed as the ball went out of bounds with 2.8 seconds on the clock.
"We were right there, it was a 3-on-1 and Elijah just put a little too much on the pass," Juby said. "Tobias (Bagby) was already going to the basket – if he would have waited a half a second, maybe he catches it."
That didn't happen though and No. 32 ranked Kingman (7-9, 3-5 3A West Region) suffered a heartbreaking loss to Wickenburg (10-5, 7-1).
"This team already has a pretty strong bond, but games like this are what create an even stronger bond – not just for the season, but for life," Juby said. "It just sucks to come up on the short end of the stick, especially when you're right there."
The Bulldogs wouldn't have been in that situation if it wasn't for Tucker Humble's three-point play with 17 seconds remaining. The junior grabbed an offensive rebound, was fouled on his made layup and then converted the and-1 to bring Kingman within one point.
It also marked the second 6-0 run of the fourth quarter after the Bulldogs very well looked out of it at the 7:21 mark trailing by nine points, 55-46.
"I couldn't be more proud," Juby said. "The grit it took that fourth quarter to chop away at it slowly. That's all you have to do – get defensive stops and make buckets."
That's exactly what Kingman did and it was a team effort as four of the five starters tallied at least one basket to make it a game. However, one Bulldog stood out from the rest.
"I really have to sing the praises of Q (Quanah Quasula)," Juby said. "He played phenomenal – that's probably the best game he's had since before Christmas. He played so well. When Wickenburg did take the ball out of Elijah's hands, Q was making the great decisions and knew exactly where to go with it and what do with it. He played phenomenally."
Howery led Kingman with 14 points, while Quasula and Humble were close behind with 11 points. Babgy scored 10 and Gage Plummer chipped in five points.
Worth noting is the fact the Bulldogs didn't score their first basket until the 4:34 mark of the first quarter. Kingman battled back though, cutting its deficit to 14-13 at the end of one and then trailed 37-32 at the half.
The Bulldogs return to the floor Friday for a 7 p.m. contest at No. 34 ranked River Valley (3-13, 2-6).
"If we can win the last two and finish .500, third place is still right there within our grasp," Juby said.