White Cliffs Wagon Trail takes hikers on Old West trip
Originally Published: July 2, 2018 6 a.m.
Tourism director Josh Noble wants to tap into the billion-dollar outdoor recreation industry by developing more hiking, biking and backpacking trails, starting with the White Cliffs Wagon Trail, one of the area's hidden geographical gems.
Trails are a huge economic driver for many towns in Arizona and Utah, with places like Sierra Vista, Camp Verde and Prescott increasing their focus on trails development.
About one-third of overnight guests come to Kingman with an interest in hiking trails, and for younger groups, it climbs to about half, Noble said.
"The more trails we have, the more opportunities we have to host sanctioned events," he said.
Kingman currently has about 88 miles of trails in the area, including 35 miles in the Cerbat Foothills recreation area, and the hope is that the White Cliffs Wagon Trail would eventually tie into that system.
The Bureau of Land Management has documented 3,500 people a year using the Cerbat Hills recreation area, with Monolith Gardens ranked No. 15 in Arizona by MTB Project, an informational source for mountain bikers.
"What I find most beneficial about adding this trail is that it will highlight one of the most unique attractions in Kingman – the wagon tracks," Noble said.
Trail history
White Cliffs Wagon Trail is part of an old wagon route used in the late 1800s to bring ore from Stockton Hill mines to the railroad. Wagon tracks have been cut deep into the rock and there are depressions along both sides of the roadbed that were used for stubbing posts and ropes to get the heavy wagons up and down the grade.
"It was the heavy ore wagons that gave the road its distinctive wagon wheel ruts and snubbing post holes," Mohave County historian Dan Messersmith said.
You'll get a great feel for Kingman's history and what people may have been dreaming of when they traveled the route. Look for an old sign at the base of the cliffs, "Welcome to the Old Trails Bar," one of many saloons in this mining town around the 1900s. They had colorful names like The Nighthawk and Bucket of Blood.
A Dec. 26, 1889, edition of the Mohave Miner reported: "F.F. Braun is endeavoring to raise money enough to build a road through the canyon north of town to intersect the present Stockton Hill Road near J.E. Johnston's cattle ranch. The projected road will be about two miles shorter than the present one and will avoid a muddy portion of the valley giving a good solid road the year round. The cost of the new road will be about $500, and that amount will be easily raised."
The road began to decline after a new road was made around 1910, partly aligned with the present-day Route 66. It was completely abandoned after the canyon was flooded in 1925.
Some people are worried that mountain bikers and hikers would erode the tracks, but it's almost like they're embedded in concrete.
"Here's what it looked like in 1973 and it looks the same today," Noble said, showing an old picture of the trail. "The only difference is it's trashed up a little. The problem we have is broken glass and graffiti. You can spray-paint a rock, but you're not going to tear it up."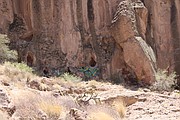 Future plans
The White Cliffs trail would start off at about three miles, with half of it already there and the other half to be constructed later this year. Future phases would expand the trail to six miles.
City Council was presented with the project scope, including 1.2 miles of new trail construction in the first phase to be partially funded by a $13,500 grant application with Arizona State Parks.
The Colorado River Area Trail Alliance, which sponsors the Rattler mountain bike race at Monolith Park, identified about six miles of potential White Cliffs trails for future phases.
Obstacles to development of White Cliffs Wagon Trail include property acquisition and ownership, and trailhead access. The trail is currently accessible from a small parking lot off White Cliffs Road. Take Grandview Avenue to Lead Street, turn right to White Cliffs Road.
A new trailhead from Cerbat Cliffs Golf Course is part of the plan.
Trails are important for health and wellness, providing physical and mental health benefits and reducing the rate of "all-cause mortality," the Council was informed. They also preserve open space and improve quality of life through education, cultural and historic programs.
Economic impact
Kingman's economy would definitely benefit from trail development, Noble said. The Outdoor Industry Association reports $176 billion spent on trips and $25 billion on gear in 2017.
Matthew Driscoll, outdoor recreation planner for the Bureau of Land Management in Kingman, said there's a lot of interest in trail development both in Kingman and Arizona.
Government and private entities see value in local trail development, with a lot of trail systems already in place that are managed by the city, county and BLM, he said.
"Kingman, and more broadly Mohave County, has a wide array of landscapes that unlike many other places in Arizona can be used to pursue recreational activities year-round," Driscoll said.
"With moderate wintertime temperatures, recreationists can enjoy low-lying Mohave and Sonoran desert landscapes and with the high elevation areas of the Hualapai, Cerbat and Music mountains, recreationists can escape the harsh summertime temperatures."
With its location off Interstate 40 and Route 66, Kingman can also tap into nearby points of interest for tourists, Driscoll added. Mobile device applications such as MTM Project, Hiking Project and Trail Run Project help visitors find out-of-the-way places familiar only to locals.
"The really neat thing is tying into what we're doing downtown," Noble said. "This will enhance the experience. One thing riders like to do is hit the trails, be back down and grab lunch and a beer. It's one more thing to do. It's all about making the ambience about what Route 66 is all about."
More like this story
SUBMIT FEEDBACK
Click Below to: