Secrets revealed: Longtime Kingman resident speaks and shows photos of the most difficult day in Kingman's history: July 5, 1973

Originally Published: July 5, 2018 6 a.m.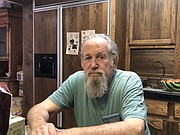 Jim Mc Milon was busy on this day 45 years ago when 13 people, including 11 volunteer firefighters, perished in the Doxol explosion.
Mc Milon hauled propane, gasoline and worked at Hobbs Truck Stop, in the 2500 block of Andy Devine Avenue, which was 50-75 yards away from the railroad car that was on fire.
"It was right at lunchtime or after when we were notified that a tank car was on fire," Mc Milon said. "I went out and looked, and this thing would shoot fire up and stop. Then it would shoot fire up, so that meant the valve was defective. We knew it was going to blow."
Propane was being unloaded from a railroad car into storage tanks housed by Doxol Gas Western Energy Company's bulk plant. Workers tried to tighten a fitting that was allowing gas to leak by hitting it with a wrench. This caused a spark that ignited the propane and started a fire.
"It's the fifth of July, so there is nothing but tourists," Mc Milon said. "My boss came in and said to get everyone out of there."
Mc Milon, his boss and others got busy getting people and machinery away. The parking lot behind Hobbs was emptied of the trucks that were parked there, and the people in the restaurant were cleared out.
Mc Milon and a small group of three others went into the truck stop and sat on the floor of the concrete-block building. His boss had just turned the corner in front of the restaurant when the explosion occurred. He was burned on his side that was exposed to the blast.
"It was from the heat wave, not the fire," Mc Milon said.
Another man had been in the parking lot trying to move people along and out of the way of the coming devastation. He survived by diving under his pickup truck, though he, too, suffered burns on his exposed side.
"The truck stop was the furthest thing I could find when I knew that thing was going to blow," Mc Milon said. "It sounded like a bomb going off. A really big bomb. It made a hissing sound plus the explosion, and it shook like an earthquake."
Photo Gallery
Doxol Fire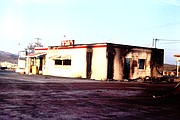 The unseen photos that Jim Mc Milon took the day after the 1973 Doxol explosion.
Fire
The explosion sent fireballs in every direction, catching everything on fire. There was a 76 gas station with an auto repair garage in the back. Behind the truck stop, a metal and wood building was used for storage. Hobbs had just received a shipment of tires and oil in 50-gallon drums. There were oxygen tanks, cutting torches and all sorts of tools inside. That went up in flames.
After the explosion, Mc Milon and crew took empty gasoline and propane tankers out of town because of the fire. When he returned, the highway patrol had blocked off Route 66 about where Uptown Drug is today. The explosion occurred near present-day Martin Swanty Chrysler Dodge Jeep Ram.
"I told him it'd be best to get those people out of there because my best guess was that there was 60,000 to 80,000 gallons of gasoline in the ground and another 30,000 pounds of propane," Mc Milon said. "'If that goes people are going to be cremated,' I told him."
The roadblock was moved to about where Interstate 40 and Andy Devine Avenue intersect today.
Mc Milon said there was a Polly Gas station where NAPA now stands, and he went near the old market off of Kingman Avenue to see what was going on. He saw the warehouse, truck stop and restaurant on fire.
"About that time, here comes the B-17," he said. "He made one pass and put the whole thing, at least 99 percent of it, out. I sat there and watched the whole thing."
Leaks
The other Doxol tanks didn't explode, but the rubber on them was damaged. These tanks were leaking, and a fire marshal/inspector from Phoenix was unclear what to do.
A crew of three rounded themselves up, unbeknownst to everyone. Mc Milon, his brother, and a highway patrolman who came up to Kingman from Tucson began hauling out the tanks. Mc Milon's brother took one on his wrecker, Mc Milon drove one of the tank trucks, and the trooper hauled one in a trailer. They rolled them over, opened the valves and bled them out at the old dump near the airport in the middle of the night.
"We did that until all of them were empty," he said. "There were dozens, and we worked four or five nights. No one knew we were doing this. If they did, they would have thrown us in jail."
The fire marshal/inspector had his suspicions.
"He comes by and says, 'They must have bled off," Mc Milon said. "He knew we did something, but he couldn't prove it."
Photographs
The day after the explosion and fire, Jim Mc Milon ran into a sergeant with the military police stationed at the National Guard armory that used to be in Kingman. Mc Milon was at the truck stop retrieving the floor safe when the sergeant approached. The government had the National Guard guarding the site. Mc Milon and the sergeant were acquainted with each other.
"He asked me if I wanted to go out and take a look," Mc Milon said. "I said, 'Of course.'"
Mc Milon grabbed his camera, and the photos he took can be seen in the photo gallery at www.kdminer.com. A video from that fateful day can also be seen at www.kdminer.com. Until now, only his immediate family has seen the photos.
"Then all the lawsuits began happening, and I told my wife I was not going to tell anyone I had these pictures," he said. "I didn't want to get involved in years of litigation. So, I just never told anybody what happened."
Shining lights
Jim Mc Milon remembers with fondness how the human spirit came together to help Kingman in her time of need. He said there were around 100 volunteers who came from out of town at its peak need. Ice companies from Lake Havasu, Las Vegas, and Phoenix brought ice to help with the more than 100 burn victims. The local food and beverage community rallied to feed the volunteers and others.
"It could have been worse," he said. "Kingman was really a small town back then, and the people who lived here really, really pulled together."
Mc Milon said after all these years, it was as good a time as any to tell and show his story.
"I've had all this for many years," he said. "My wife passed away last year, and I'm 80 years old. I just figured somebody ought to know."
More like this story
SUBMIT FEEDBACK
Click Below to:
This Week's Circulars
To view money-saving ads
For as little as $3.49*