Kingman soccer players learn the game from European visitors
Playing some footy

Originally Published: July 11, 2018 6 a.m.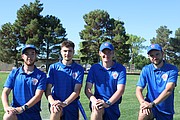 KINGMAN – Getting children excited about soccer at an early age allows them to learn the skills and techniques they need to excel in the future, which hopefully means the U.S. team will qualify for the World Cup in years to come. Coaches from UK International Soccer are in town teaching Kingman youth those skills in a fun, educational environment.
Coach Jason Horton is from London and has been with the program for three years. While he has traveled to both the East and West coasts, this is his first time in Arizona. He said it's a lovely place with lovely people, but that there are some fundamental differences in how the game is approached in the U.S. as opposed to overseas.
He noted that here, soccer — football or futbol depending on where you're from — is focused primarily on the experience and having fun, while back in England that's not always the case.
"The environment that we've got here and the environment that's created by the children is definitely all about fun, having a go, having a try, because some of the children, it's their first time at camp," Horton said. "That attitude of give it a go, try your best, you don't necessarily get that at home as much."
The camp splits players into three groups, ages 4-6, 7-11 and 12-18. However, all campers learn the same basic skills just with a different level of intensity.
"Every age group will work on the same key themes," Horton explained. "For example, (Monday) was passing, so whether the kid is 5 or 15, they're still doing passing and obviously we challenge them appropriately. So the 5-year-olds, they might spend 5 to 10 seconds thinking about it and then 5 minutes doing it, whereas in the top group they might spend a minute talking about how to pass, why, when and all of that."
Horton said the kids entered the camp to play, so that's exactly why each day is started with a short scrimmage. Campers also participate in drills and games that help them to develop techniques and skills.
"I teach them skills like dribbling, passing and shooting," said coach Marcin Okarmus, who is from Poland. "I want to make kids confident with the ball. Some kids have never played soccer, so I need to explain to them the rules and how to play."
His favorite part of being a camp instructor is watching the campers enjoy themselves.
"I like observing the kids when they're smiling, because everything's for fun," he said. "I don't want to pressure them, it's for fun not competition. I want to encourage them in a positive way to play soccer for a long time. That's the point, I think."
The learning doesn't stop once players leave the field, either. Instructors are hosted by local families which provides the opportunity to learn about another's culture.
"Every time we host coaches we'll get our atlas out and they'll show us where they're from and we learn about their country and the goods and services and things they grow there," said Tammy Davison, coach host and mother of two children at the camp. "It's always a good learning experience for everybody."
Her kids, 13-year-old Tyler and 11-year-old Taylor, say they're enjoying the camp and are learning a lot both on and off the field.
"They call a flashlight a torch and a soccer field a pitch, and these are football boots," Tyler said, pointing to his cleats.
Taylor said her favorite part of camp is the scrimmaging but she also enjoys the other skill-building games they play.
A World Cup game is held at the end of each day and teams, which are assigned countries, earn points not just by winning games but also by displaying good sportsmanship and fair play. Soccer players have a unique opportunity to learn from the best of the best this year as the World Cup is going on, and Horton recommends that those interested in soccer watch the World Cup not just for enjoyment, but for educational purposes as well.
"They can learn a lot, they really can," he said. "Techniques, how challenging the game is, maybe certain tactics and plays because every country plays differently."
The camp started Monday at a cost of $115 for the week, but kids interested in joining for the remaining three days are welcome to do so. Parents of those kids will pay a daily amount of approximately $23.
Horton encouraged players to work on their skills, push themselves and to "practice, practice, practice," even after the week is over.
"Whenever they can, take out a soccer ball, go and play with friends and family," he said. "Take a ball, kick it up at the wall, do as much as you can because it's the key skills of the foot to the ball at a young age that is really key."
Those interested in signing up their children for the remaining three days can contact UK Soccer at 855-UK-SOCCER or by email at Arizona@uksoccer.com. To learn more about the camp go to www.uksoccer.com.
More like this story
SUBMIT FEEDBACK
Click Below to:
This Week's Circulars
To view money-saving ads
For as little as $3.49*