Getting down and dirty: 40th annual Mighty Mud Mania


Originally Published: July 13, 2018 5:58 a.m.
Photos by Travis Rains and Vanessa Espinoza
Shawn Bell Sr. has been going to Mighty Mud Mania since 1999 and said he likes to take off work so he can participate. And it's not just his children who enjoy splashing and racing in the mud, as he plans on taking first again this year.
"This is a great, great tradition," he said.
Photo Gallery
2018 Mighty Mud Mania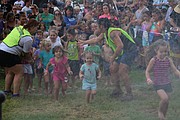 Hundreds of children and adults gathered at Firefighters Memorial Park Thursday for Mighty Mud Mania. Photos by Travis Rains and Vanessa Espinoza.
Corbyn Rowden and her family have been participating in the event for about four years. She said this year was another success, though the weather could have been better.
Mud Mania 2018 Results
Age 4-5: Boys 1. Eston STuick, 20.69; 2. Thomas Reyes, 23.15; Girls 1. Brooklyn Jarquin, 25.60; Rilee Newton 27.31.
Age 6-7: Boys 1. Branson Yurcina, 25.66; 2. Swayde Marzley, 26.09; Girls 2. Kley Eales, 25.98; 2. Payton Prader, 33.40.
Age 8-9: Boys 1. Eli Bell, 21.10; Devon Dubay, 21.87; Girls 1. Samantha Larsen, 21.96; 2. Aliana Bremmer, 22.47.
Age 10-11: Boys 1. Matthew Thomas, 18.06; 2. Gabriel Torres, 18.07; Girls 1. Keara Kennedy, 19.00; 2. Kaylee Cushing, 201.5.
Age 12-14: 1. Malakia Bell, 14.37; 2. Aimen Mecom; 17.62; Girls 1. Taliyah Crook, 17.15; 2. Jasmin Furr, 17.75.
Age 15-17: 1. Cole Ingrassi, 16.03; 2. Dylan Dames, 16.16; Girls 1. Tiana Davis, 20.88; 2. Charlie Cassady, 21.06.
Age 18-34: Men 1. Reece Robertson, 16.53; 2. Dustin Ferro, 16.69; Women 1. Natasha Brown, 19.63; 2. Serenity Lane, 20.00.
Age 35+: Men 1. Shawn Bell, 16.50; 2. Mike Thomas, 18.39; Women 1. April Harrison, 22.75; 2. Tiffany Kelly, 25.41.
"It was good, I'm sad we might get rain out," she said. "I wish it was a little warmer."
John Mac, a grounds keeper with the Parks Department, has been working the event for 22 of its 40 years. He said that in all the time he's been here, and to the best of his knowledge in years before his arrival, the event has never been canceled due to weather.
Mac fished out five shoes and one pair of glasses during Thursday's event. He also said they found a sandal from one of the previous years during while they were setting up.
There was a break in the action due to lightening, but once the worst of the weather passed, children once more added a few layers of mud to their already wet clothes.
More like this story
SUBMIT FEEDBACK
Click Below to:
This Week's Circulars
To view money-saving ads
For as little as $3.49*