Originally Published: July 17, 2018 6 a.m.
People come in different shapes, forms, colors, cultures, ethnicities and backgrounds. Some people are born with extra strengths that can get them far in life, if they just have the patience and knowledge to know what makes the gears in their minds turn.
Morgan Hinton has been living with autism since he was 7 years old, and little by little he hopes to change the public's perspective on how society views people living with autism.
"My mission is to educate people of the community … about the needs of the autism spectrum (disorders) population," Hinton said.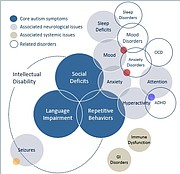 The autism spectrum disorders are characterized by social interaction difficulties, communication challenges, and the tendency to repeat while exercising engaging behaviors.
Since Hinton was in middle school, he would take the time to talk to those around him about autism. Hinton has been providing consultation services to people in the state of Arizona who have a family member with autism, teachers, police officers, employers and anyone else who would like to broaden their knowledge.
"I've always wanted to educate people," Hinton said "A lot of it is for the benefits of others because we're not a well understood group."
According to Hinton, when society hears about people with autism there's usually a negative stigma based upon social skills. He also said it's a cultural difference between people with autism and those without it.
"People have different cultural norms and when you don't follow them, you're considered an outlier," he said.
People with autism vary in characteristics from one another. Some may talk more than others, there are some who are really great at math and others who are great at art. Often times, they have trouble reading facial expressions.
"Most people use facial expressions or body language, really subtle ones, with me and others. We cannot pick up those signals," Hinton said. "It's that communication barrier that goes on."
At the end of July he has the opportunity to speak at the Aspire Conference in Glendale to inform employers about how people with autism can be useful in the workplace.
"One of the biggest strengths of people on the autism spectrum is attention to detail," he said.
Companies have already worked their way into hiring more people with autism in work environments. Microsoft has an Autism Hiring program, and SAP, a German software company, launched an Autism at Work program in 2013.
According to Integrate, a nonprofit organization that connects employers to autistic college graduates, 85 percent are unemployed and 79 percent of autistic young adults only work part-time.
"I would like the public to know that while we may have challenges due to our social differences, we do have lots to contribute to society. Our minds just process differently, and we need people to be patient," Hinton said.  
For more information on the type of services Hinton provides, visit his Facebook page Autism Acceptance Consulting or send an email at MorganHinton@AutismAcceptanceConsulting.com.
More like this story
SUBMIT FEEDBACK
Click Below to:
This Week's Circulars
To view money-saving ads
For as little as $3.49*