Police return to search Snavely residence in connection with missing $170,000
Originally Published: July 17, 2018 5:05 p.m.
KINGMAN – Kingman Police returned July 17 to the residence in the 2100 block of East Snavely Avenue that is connected to the alleged theft of $170,000 from a woman who left the cash behind in the Walmart parking lot June 5.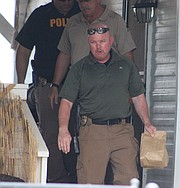 Investigators left the property with two bags. It is unknown at this time if the search was in connection with the missing money or for another reason.
A pitbull dog was injured during the search but will be OK, according to Lt. Bob Fisk. Mohave County Sheriff's Office Animal Enforcement took the dog for treatment after it gritted its teeth at an officer in the back bedroom of the home. The officer was not injured.
A Valle Vista woman reported leaving the cash-filled suitcase, which she said contained about $170,000, at Walmart June 5. She took the suitcase into the store with her and left it on the bottom of a shopping cart, not realizing that she'd forgotten it until she returned home, according to police reports.
The woman told the Daily Miner she was carrying the money with her because she had just sold her Texas house and business and feared someone tried to break into her home to steal the money.
More details will be reported when further information is provided.
Related Stories
More like this story
SUBMIT FEEDBACK
Click Below to:
This Week's Circulars
To view money-saving ads
For as little as $3.49*