Vols teach football fundamentals to area middle schoolers

Originally Published: July 18, 2018 5:29 p.m.
KINGMAN – On a hot and humid summertime afternoon, many area Kingman children are likely to be found in the comforts of an air conditioned room.
Photo Gallery
Middle school football camp at LWHS - July 17, 2018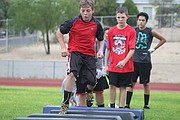 The Lee Williams High School football team hosted a two-day camp July 16-17 to teach fundamentals to middle school students. Photos by Beau Bearden.
But that wasn't the case for about 45 middle schoolers Tuesday afternoon as they were instead taking part in a camp hosted by the Lee Williams High School football team.
"I told the kids I'm proud of all of them for choosing to get better," said Lee Williams football coach Clint Sasse. "There's a lot of kids that are probably playing Fortnite right now and these kids are getting better. They made the decision and that's great at this age. It's great for the community and it's great for the families to push their kids to get out here and get better."
Sasse knows just how important fundamentals are to the game of football and he wants to make sure they are taught at the earliest age possible. To that aim, Sasse decided it was time to bring the camp back.
"We have the potential in this town to be really good, but it starts at this level," he said. "It starts with breaking down the fundamentals and putting them through this at this age. That obviously continues into middle school and into high school. Everyone is going to benefit from it."
Campers were separated into groups based on position and then instructed on a number of different techniques ranging from tackling to footwork.
"When you break it down to such a specific level of teaching the fundamentals, you get a lot of these kids," Sasse said. "It's really nice because there's no bad habits to break and they get to start with a clean slate with everything."
But it wasn't just Sasse and the coaching staff teaching the fundamentals, as a number of Volunteers were also helping mold the young minds. That should pay off and help create a bright future for football in the city of Kingman.
"I'm really impressed by the youth we have here," Sasse said. "There's a strong future for the city of Kingman football. There's some great athletes who want to work hard. They're just like sponges – they take it all in and they're going to be great."
More like this story
SUBMIT FEEDBACK
Click Below to:
This Week's Circulars
To view money-saving ads
For as little as $3.49*