ADOT launches mobile-device version of bicycle user map
Originally Published: July 20, 2018 5:57 a.m.
KINGMAN – Working at the City of Kingman's visitor center at the Powerhouse, Tim Wilson sees a lot of bicyclists riding through town, like the woman he met recently with a prosthetic leg who was bicycling coast to coast.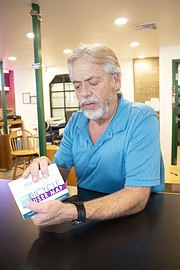 He hands out at least a couple Cycle Arizona bicycle user maps prepared by Arizona Department of Transportation every day, sometimes more depending on the time of year.
It's a hard-cover map on the front and back to preserve it from wear and tear on the road, and it unfolds accordion-style into a cycling map of the entire state with breakout sections for Phoenix, Tucson, Flagstaff, Prescott and Verde Valley, Yuma and Sierra Vista.
Kingman and Mohave County are left off the map, though the area is showing great potential for rivaling the more popular areas of Arizona as a bicycling destination.
"The main thing in Arizona is stopping for water," Wilson said of the map's usefulness as a guide for cyclists. "They plan their whole trip around it. That's how they settled the Southwest."
Recognizing that Arizona has become a cycling mecca with mountain bike festivals and races such as The Rattler at Monolith Gardens in Kingman, ADOT has launched a mobile-friendly version of the bicycle user map.
The map is intended to help bicyclists explore Arizona, showing route characteristics such as shoulder width, traffic volume, hill grades, rumble strips and bridges with shoulder widths less than 4 feet.
The Cycle Arizona map is available at AzBikePed.org. It links to resources on laws and policies, local bicycle paths and U.S. Bicycle Route 90, created in 2015 to span 573 miles of Arizona.
Along with PDF versions, there's an interactive version compatible with iOS and Android mobile devices. Users can click on lines and icons to see frontage roads, extreme grades, narrow bridges and places to visit such as state and national parks, trailheads and rest areas.
"The mobile version makes this a great traveling companion for anyone who's passionate about bicycling, including the many riders who travel to Arizona," ADOT Director John Halikowski said in a prepared statement. "We take everything from safety tips to local points of interest and literally put it in the palm of your hand, making transportation truly personal."
A 2013 ADOT study showed Arizona is a destination for out-of-state bicycling enthusiasts due to its weather, newer infrastructure and scenery, among other factors. It found that bicycle tourists contribute more than $88 million annually to the state economy.
The map was produced in collaboration with the Arizona Office of Tourism and Arizona Council for Enhancing Recreation and Tourism.
Kingman currently has about 88 miles of trails, including 35 miles of breathtaking high-desert geography in the Cerbat Foothills recreation area. The City is developing White Cliffs Wagon Trail that would eventually tie into the system, said Josh Noble, director of tourism.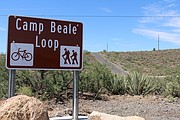 Cerbat Foothills has the Badger (3.1 miles); Beale Loop (3.3 miles); Castle Rock (4.5 miles); Foothills Rim (5.2 miles); Monolith Gardens Loop (9.4 miles); Rattler (5.1 miles); Tech Ridge (1.1 miles); and Upper Foothills (2.7 miles).
"The more trails we have, the more opportunities we have to host sanctioned events," Noble said.
The Bureau of Land Management has documented 3,500 people a year using the Cerbat Foothills recreation area, with Monolith Gardens ranked No. 15 in Arizona by MTB Project, an informational source for mountain bikers.
"Kingman, and more broadly Mohave County, has a wide array of landscapes that unlike many other places in Arizona can be used to pursue recreational activities year-round," said Matthew Driscoll, outdoor recreation planner for the Bureau of Land Management in Kingman.
Michael Sanders, ADOT's bicycle and pedestrian program coordinator, said producing the mobile-friendly map involved reviewing feedback from constituents and researching how other states offer information for bicyclists.
"The Arizona Management System championed by Gov. Doug Ducey challenges all ADOT employees to continuously improve this agency's value to its customers, and those customers include the many bicyclists drawn to our state's scenic highways and byways," Sanders said. "These updates will make it even easier for bicyclists of all comfort levels to enjoy the best of what Arizona has to offer."
More like this story
SUBMIT FEEDBACK
Click Below to: