Members of Kingman High School's FBLA club spent part of their summer vacation in Baltimore at nationals

Originally Published: July 20, 2018 6 a.m.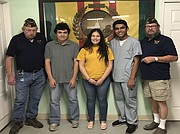 High school prepares students for college, the workforce or whatever else they may decide to do once they receive their diploma. During these four years, they are taught algebra, English, science and history, but beyond the classroom they also have their extracurricular activities.
These pursuits surpass the stigma of "having something fun to do after school." Often enough, these activities furthers students' education with lessons about life and other topics that maybe they wouldn't learn sitting in class reading Romeo and Juliet or trying to solve the Pythagorean Theorem.
Future Business Leaders of America students at Kingman High School learn about public speaking, business and marketing aspects such as accounting and spreadsheet analysis, and how to work together as a team.
"(We learn) how to communicate with each other better and how to get out there," Gerardo Rodriguez, FBLA treasurer said.
The students are taught problem-solving skills, which are essential when working together as a team. When it comes down to competing, the students are given a topic and have to convince judges they are experts on the subject at hand.
Being in FBLA opens doors for students that help them realize what they want to pursue as a career. Marlen Alvarez, an FBLA president who just graduated and will continue her education in Boston, is going to major in marketing.
Rodriguez took his experience in the club to better his public speaking skills, teach the underclassmen the ropes of the club, and plan events. He will continue his education at Boston University to eventually pursue a career in the medical field.
Eleven of these students qualified for the national competition where they had to commit to a business topic and prove their proficiency. Ten students made the trip to Baltimore from June 26 through July 2 to compete against other schools from around the country and the world.
Some students who went to nationals were seniors, and throughout their participation in the club they learned a lot, including realizing things about themselves they didn't know.
"You learn to be confident," Rodriguez said.
Students gained their confidence with the encouragement from club sponsors Jean Meersman and Melissa Gonzalez. Students often tell Gonzalez and Meersman they can't talk in front of people, but the teachers reassure them that anything is possible.
"You can and this is a safe environment. No one is going to be mean to you because you make a mistake," Meersman said.
Confidence is key when presenting in front of judges and speaking in front of crowds. During the school year, the upperclassmen notice the new members of the club grow by getting out of their comfort shells.
In order for the students to make it to nationals, they had to place in the top four at the state competition. Twenty-eight students made it to state and out of those 28, 12 qualified for nationals. Only 10 could make the trip.
For these students to make it to the opposite side of the country, they used their public speaking skills they learned to get sponsors to help with the costs associated with such a trip.
"We did a lot of presentations to get donations, for example to get clothing," Rodriguez said.
The students who qualified for nationals were Cristian Acosta-Hernandez, Marlen Alvarez, Delanie Cencelewski, Drew Crawford, Felicia Fragassi, Gisele Jablonski, Serenity Lynch, Victoria Ratburn, Kyle Rivera, Gerardo Rodriguez, and William Whitten.
The FBLA members would like to thank In-N-Out, Wave JTED, the Veterans of Foreign War, Southwest Trading Co., Kingman Progressive Association, and Kingman Regional Medical Center for their donations.
More like this story
SUBMIT FEEDBACK
Click Below to:
This Week's Circulars
To view money-saving ads
For as little as $3.49*