Originally Published: July 26, 2018 6 a.m.
Living half a mile from the U.S. Highway 93 turnoff onto Pierce Ferry Road, Vaughan Hargrave has long recognized the danger of the highway from blaring sirens that set his dog howling with another death announcement.
The crash of a Dallas Cowboys tour bus that killed four Chinese tourists in a van at U.S. 93 and Pierce Ferry made sensational headlines in 2016, but Hargrave said it happens at least once every month or two.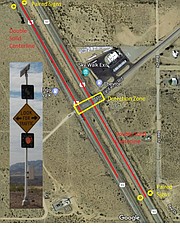 Although the Department of Public Safety has no specific statistics on fatalities at U.S. 93 mile marker 42, which is Pierce Ferry Road, Hargrove counts about 20 rollovers and T-bone accidents that have occurred in the last couple of years.
"There is a potential for large loss of life due to tour buses and tourist drivers," Hargrave said. "These people come out of Vegas, they come across the turnoff and don't even stop. There's no sign that says they need to stop ahead."
That could change, said Alvin Stump, northwest district engineer for Arizona Department of Transportation.
"We do have some signing and striping improvements planned and we are working on an exhibit," Stump said.
U.S. 93 in Arizona is ranked as the most dangerous highway in the United States, according to ValuePenguin.com, a personal finance website that conducts research on a variety of topics.
The 200-mile stretch from Wickenburg to the Mike O'Callaghan-Pat Tillman Memorial Bridge near Hoover Dam has accounted for 70 fatalities from 2010-2016. It's the main travel route from Phoenix to Las Vegas. Most of the crashes occur along the segment in Mohave County, ValuePenguin reported.
The United States is linked by a network of roadways covering more than 4 million miles. And while automotive safety standards and technology have greatly improved, there are still more than 34,000 fatal crashes a year, with 57 percent of them occurring on U.S. highways.
"Naturally, each road has its own respective track record when it comes to safety, and some roads are more dangerous than others," ValuePenguin stated in its report, which analyzed data from the National Highway Traffic Safety Administration to rank the 50 most dangerous roads in the country.
Mohave County's tourism industry, coupled with traffic from within and outside the state, attracts a significant proportion of motorists who are not familiar with the approach to Pierce Ferry Road, said Steve Latoski, director of Mohave County Public Works.
"The U.S. 93 northbound and southbound lanes bisect the intersection at different elevations," Latoski noted. "These characteristics and high-speed U.S. 93 operation may impact intersection safety."
Ryan Harding, spokesman for ADOT, said the department has invested hundreds of millions of dollars improving U.S. 93 between Wickenburg and the state border at Nevada, and more investments are planned in the five-year construction program.
"As the proposed I-11 comes closer to reality in Arizona, U.S. 93 would be upgraded to interstate highway standards, including traffic interchanges," Harding said.
As for Pierce Ferry Road, ADOT is making safety improvements at the deadly intersection, including stop signs with LED flashing lights that have already been installed.
A "Stop Ahead" sign and pavement markings, along with rumble strips on the road approaching the highway, are coming in the fall. Intersection warning signs will be placed on U.S. 93 and "Stop" paving marking where traffic crosses the median. ADOT also plans to remove pavement on the inside corners to encourage slower turning speed.
"However, these investments don't make a road safe or unsafe," Harding mentioned. "It's driver behavior accounting for 94 percent of all crashes. That is the principal factor in a highway's crash rate."
Drivers need to slow down, drive attentively and not drive drowsy or impaired, he added. And expect the unexpected.
Another factor in fatalities is the remote nature of many Arizona highways, including vast segments of U.S. 93 where there's spotty cellphone service and few emergency medical services.
Traffic has increased a little since a Chevron gas station opened at the Pierce Ferry intersection a year ago, but it's the Grand Canyon West's famous Skywalk that has brought a steady stream of tour buses from Las Vegas, said Tony DeMayo, chief of Lake Mohave Ranchos Fire District.
"It's the sheer number of people traveling through and speeding by people that are traveling on 93," DeMayo said. "I get passed and tailgated all day long. I've been responding to emergencies with lights and sirens and people go around me. It's just ridiculous the attitude of drivers."
The fire district chief has seen a rash of fatal accidents in the last couple of years, spiking at different points in the season. Most recently, he worked a crash involving a semi-truck and jeep and said the people were "lucky to be alive."
Local drivers understand the danger at U.S. 93 and Pierce Ferry Road. DeMayo advises personal friends and family to slow down and be overly cautious approaching the turnoff, especially from southbound lanes.
Dolan Springs has room to grow, and when I-11 comes along, a lot of the "mom-and-pop" access roads off U.S. 93 will disappear and be replaced by a frontage road to meet interstate standards, DeMayo said.
Mohave County Supervisor Jean Bishop, whose district includes Dolan Springs, said she's given considerable thought to the dangerous Pierce Ferry intersection and how to improve safety conditions.
She met with Lake Mohave Ranchos Fire District board Tuesday and suggested community leaders and citizens write letters and speak during the call to public at ADOT meetings.
A good opportunity to speak to the transportation committee is coming up Oct. 24-26 at the Arizona Rural Transportation Summit in Lake Havasu City, Bishop said.
Hargrave of Dolan Springs said there was a dangerous intersection on Route 46 in his home state of Virginia, and it wasn't until the postmaster was killed that locals "raised a ruckus" and changes were made.
"Odds are it's going to take somebody local to die, especially a kid, and then we'll get somebody's bowels in an uproar," Hargrave said.
More like this story
SUBMIT FEEDBACK
Click Below to:
This Week's Circulars
To view money-saving ads
For as little as $3.49*