First Flight: Airport Advisory Commission held its first meeting since City took control of the airport

Originally Published: July 27, 2018 6 a.m.
Commissioners sitting on the Airport Advisory Commission were excited at their first meeting Wednesday evening about the opportunity to bring the airport up to the standards of the users, and for the chance, in the words of Commissioner David Amspoker, to "make this the jewel of an airport that it deserves to be."
Amspoker wasn't the only one voicing excitement.
"I just want to say this is a historic meeting," said Commissioner Gary Rucker. "This meeting validates what many of us have felt could have and should have been done 30 years ago. Thank you to everyone who contributed to where we are now."
The first piece of business conducted at Wednesday's meeting saw Carl Hays being appointed as chairman of the commission and Scott Brackett as vice chairman. From there the AAC got into the nuts and bolts of airport improvements, requested staff reports and future agenda items.
Commissioners agreed that it would be wise to look at airport finances including assets, revenue, lease agreements and expenses. Pending projects such as the dross site and marketing campaigns for the airport and industrial park will also be added to future agendas.
"Our market really is in aircraft storage, and we really need to take a look at Roswell (New Mexico) because they're running out of space, and we are the closest and most available competitor for Roswell," Rucker said.
Hays noted airport management hopes the investigative phase for the mitigation of the airport's dross site, which includes drilling holes to determine what materials are there and to what waste processing companies they can be taken, will be completed by September or October. Dross is the waste from the smelting of some 6,000 military aircraft that took place at the airport after World War II. and state approval of a cleanup plan, the cleanup itself can begin. The City and the former Kingman Airport Authority successfully pursued legal action against the U.S. government to fix the issue.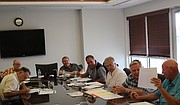 Cooper also provided commissioners with an overview of the open meetings law to ensure a quorum, splintered or otherwise, is not unintentionally formed to discuss airport business. A quorum is a majority of commissioners, in this case four, gathering to discuss City business outside of public view. A splintered quorum occurs when three or less commissioners discuss city-related airport business, and then another later discusses the issue with yet another commissioner.
But the City and its citizens can rest easy, as commissioners took this discussion seriously and asked numerous follow-up questions of Cooper to ensure their understanding and compliance with the law. Questions arose because AAC commissioners are closely tied to and involved in local aviation activities, events and organizations such as the Experimental Aircraft Association.
"Sometimes these laws that are written to talk about these open meetings laws, it's tough when you have these community interests, especially with this being such a singular group with a lot of interrelation," Cooper said. "It makes it tough."
Cooper said he is there to help commissioners comply with the law, and that when in doubt as to whether an issue constitutes a conflict of interest or an open meetings law violation, the AAC should reach out to the attorney's office.
"It's all about just making sure that the business is done in public, (that) the transparency is there," Cooper said.
The commission voted to hold its meetings at noon on the second Monday of each month in Council chambers, 310 N. Fourth St.
More like this story
SUBMIT FEEDBACK
Click Below to:
This Week's Circulars
To view money-saving ads
For as little as $3.49*