The journey to Tennessee: Kingman's Cade Bradley reaches new heights

Originally Published: July 29, 2018 5:59 a.m.
KINGMAN – It's been a dream in the making for Cade Bradley.
The Kingman native has spent countless hours on his bike to accomplish a goal and he's finally achieved it.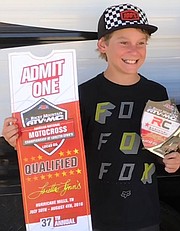 Bradley will join 1,446 others who qualified for the 37th Annual Rocky Mountain ATV/MC AMA Amateur National Motocross Championship set for Monday through Saturday at Loretta Lynn Ranch in Hurricane Mills, Tennessee.
"It takes a lot of work," Cade said. "You just have to keep working towards it. You have to want to get there and you'll get there."
However, it's not too surprising that Cade has made it this far – he's been riding for at least four and a half years.
It's a family affair too, as his brother Cameron has qualified twice in the past. While Cameron didn't qualify this year due to an injury, he has still spent the whole month of July with Cade riding at the Georgia Practice Facility in Cairo, Georgia.
"Where we're at in Georgia is actually a really good track to prepare for Loretta Lynn because of the soil that's here," said the boys' father, Chip Bradley. "We come out here to get acclimated to the humidity and the heat. This is Cade's fourth year trying to qualify for Loretta. It's the first time that he has."
The Bradleys' dedication to the sport stretches far beyond the last month of training in Georgia though. Chip and his wife, Kelly, have proven to go above and beyond to help their sons achieve their dreams.
"My mom and dad are pretty awesome," Cade said. "They support me a lot. My dad is my mechanic and works on my bike full time. He works on the bike 24/7 – he never stops."
Along with his family, Cade has local sponsor River Rat Motorsports to thank as he continues to soar to higher levels. All of that support will no doubt be important as Cade will be performing on the biggest stage of his young career.
"The amateur national at Loretta Lynn's is the best of the best motocrossers in America and around the world," Director of MX Sports Tim Cotter said in a press release. "Just being here makes you an elite racer and a top athlete. A solid finish at Loretta's would you give you instant national recognition and a possible professional career."
It wouldn't be out of the question for Cade to have some nerves heading into an event with so much prestige, but he didn't show any signs of that when asked about riding in front of a large crowd.
"It actually pumps you up because they're all cheering and stuff," Cade said. "It doesn't make me nervous at all, surprisingly."
More like this story
SUBMIT FEEDBACK
Click Below to:
This Week's Circulars
To view money-saving ads
For as little as $3.49*