After 4 years, child kidnap, rape and murder case still delayed
Judge may get more aggressive in bringing Rector to trial
Originally Published: July 31, 2018 5:55 a.m.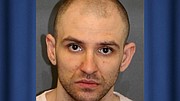 KINGMAN – Frustration over the delay in bringing accused kidnapper, rapist and murderer Justin James Rector to trial was expressed Monday by attorneys from both sides, as well as Mohave County Superior Court Judge Lee Jantzen, who said he may need to be "more aggressive" in moving the case forward.
The judge set the next court hearing for 11 a.m. Sept. 7, prodding prosecuting attorney Gregory McPhillips and defense attorney Julia Cassels to communicate with each other either by telephone or email at least once a week in the meantime.
"It's certainly frustrating from everyone's perspective," Jantzen said toward the end of Monday's status conference. "This thing's been drawn out for four years since the date of the incident. Maybe I need to be more aggressive."
It was September 2014 when the body of 8-year-old Bella Grogan-Canella was discovered buried in a shallow grave near her home in Bullhead City. Rector was living with the girl's mother and stepfather, who were later arrested for dealing methamphetamine.
Cassels opened Monday's hearing by going over three main points from her motion to compel disclosure filed May 21.
First was the information she's requesting from the medical examiner's office. Cassels said she's still looking for a couple of "minor" things.
Second, she's trying to resolve an issue with the cellular electronic phone information. She can't get the disc to open.
Third was access to information that required the FBI's password. The state was able to rectify that problem by sending her a PDF version, Cassels said.
McPhillips said it's "unfortunate" that he was just hearing about the medical examiner issues Monday, when he disclosed that information on June 12.
"I did what the court asked us and got every stitch of paperwork from the coroner's office," the state's attorney said. "If they want to talk to them and ask exactly what they're looking for ... they've given us all the documents. If we want to go their office and thumb through them, we can do that, I think."
McPhillips said he sent phone records on June 29 and had heard nothing about problems opening the disc. None of these issues should be stopping Rector's case from going to trial, he said.
"We done nothing on this case other than redisclose, redisclose, redisclose," McPhillips told the judge. "The victim's (family) does want a speedy trial. If we can't set it today, set it next week."
The attorney said he was "supremely frustrated" that nothing has been done since the May 21 motion.
The very nature of Rector's case changed drastically when prosecutors chose to not seek the death penalty, Cassels said. She lost part of her defense team and has spent thousands of hours over months and months going through documents and collecting evidence, she noted.
She hired a paralegal at her own expense to locate officers' names and find out who has been interviewed. She needs to go through all the transcripts, and in some cases may want to conduct her own interviews, which could involve traveling to FBI headquarters.
"I have absolutely no intent in dragging this out," Cassels said. "Justin has been sitting in jail for four years without seeing his family."
Jantzen said he wants to see more communication between the attorneys not involving court hearings. Rector has a right to a speedy trial, which has been delayed twice, he added.
"You guys need to communicate more and not wait until the last week," the judge said. "It is time to set up interviews and focus on the main witnesses and if they need to be reinterviewed, that has to happen."
SUBMIT FEEDBACK
Click Below to:
More like this story