In the midst of a drought, there is no stopping farmers from dipping deep into wells
Originally Published: July 31, 2018 6 a.m.
When she drives by the water wheels irrigating farms in the Red Lake area, Robin Hood wonders why Mohave County officials aren't taking action to stop the waste.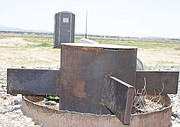 The watering starts in the morning when temperatures are already in the 90s and it's evaporating before it hits the ground, she said. Some of the tumbleweeds are taller than the orchard trees.
"Even when it's raining, they're watering," said Hood, who lives off Stockton Hill Road on the way to Meadview. "They need to stop buying up land and planting trees because that's our drinking water."
The Hualapai Valley Basin provides groundwater for thousands of residents in Kingman and the surrounding areas, and hydrology studies show that the drawdown on three aquifers in the basin significantly exceeds the annual recharge.
"Peach Springs is already running out of water," Hood said. "One of their wells is shut down and they're hauling water in from Grand Canyon West. These (farmers) are getting water before it gets to Peach Springs. Why are they still drilling when we're in a 20-year drought?"
Mohave County Board of Supervisors recognizes the growing risk to the Hualapai basin, and has commissioned a study by the U.S. Geological Survey to determine aquifer levels and models estimating future supply.
Supervisor Jean Bishop reported that 163 farming wells were drilled in the Hualapai Valley Basin during 2017, and in the space of six years, the basin has become a farming controversy.
Arizona Department of Water Resources estimated that annual agricultural use has increased to 32,000 acre-feet, raising the water deficit in the aquifer to 37,600 acre-feet, which is nearly four times the total annual recharge.
In February, the USGS doubled the ADWR estimate, confirming that agricultural withdrawal from the Hualapai Basin was 32,500 acre-feet, and recognizing that potential agricultural use could conceivably top 100,000 acre-feet a year as Mohave County has experienced an influx of farmers leaving drought-stricken California.
Gary Watson, chairman of the Mohave County Board of Supervisors, said the county has no local jurisdiction over who can drill for water for "beneficial use," which is allowed by state law.
However, J'aime Morgaine, Democratic candidate for Arizona State Senate, disagrees with his stance.
Yes, Arizona holds jurisdiction over who can drop a well in Mohave County, which is why she's campaigning to change some of the state's antiquated water rights laws.
But the board has the power and authority to rezone agricultural land and reject agricultural business licenses, Morgaine said. That would take away investors' motivation to purchase land for farming water rights.
"Water is a basic human right," Morgaine said. "Commercial agriculture should have never been allowed in this county. We are an arid desert climate with limited water resources. We are in a severe drought, with no guarantee that the drought will end.
"The USGS has declared Mohave County as a natural disaster zone because of the severity of the drought. And we are using water faster than the ability to recharge. The current water management plan is unsustainable," she said.
Bishop said all land in Mohave County is zoned for agriculture and residential, unless land owners apply for a zoning change. Also, state law exempts grazing and agriculture from zoning and building requirements for five or more contiguous acres.
Some 5,000 acres in Mohave County have been targeted for nut farming, and at estimated water use of 4 acre-feet for every acre, it's a real concern, Bishop acknowledged.
"The good news is that we should have the results of the USGS study within the year and be able to utilize those results in pushing legislation to help us protect our aquifers and control our own destiny with regards to groundwater here in Mohave County," the supervisor said.
The Arizona Department of Water Resources, which monitors wells in Mohave County, has also addressed the drought with a contingency plan for the Colorado River, which supplies water to cities such as Bullhead City and Lake Havasu City, along with the Mohave Valley Irrigation and Drainage District.
At a June 28 meeting in Phoenix, ADWR Director Tom Bruschatzke emphasized the importance of creating flexibility for participating states to raise the level at Lake Mead. The panel discussed the uncertainty Arizona faces if the manmade reservoir should fall to crucially low water levels such as 1,025, feet, or even 1,000 feet.
Meanwhile, a Butler resident who asked that his name not be used is worried that a farming operation near Kingman Airport is threatening his quality of life.
Bruce Beard, a nut farmer from Modesto, California, owns about 6,000 acres and hired Zim Industries of Bakersfield to drill two wells, with a third well in the works, on about 500 acres under cultivation. Landmark Irrigation of Madera is laying water pipe from the wells.
Beard owns the land under three separate entities: Mohave Valley University, Valle Vista Environmental Studies and RB Ranch Development.
More like this story
SUBMIT FEEDBACK
Click Below to:
This Week's Circulars
To view money-saving ads
For as little as $3.49*