Obituary | Elmer Bowen
Originally Published: June 3, 2018 6 a.m.
Elmer Bowen, age 92, World War II Veteran, member of "The Greatest Generation," and a 56-year resident of Kingman, Arizona passed away May 28, 2018 after a short illness.
He was born in Taylorville, Illinois to Edwin and Mary Jane (Lovell) Bowen on August 12, 1925, the 10 of 11 children. A true child of the depression, he quit school after the eighth grade in order to help support his family. During that time he worked as a farm hand, as a hog butcher in a slaughterhouse and built and maintained railroad lines.

The day after Pearl Harbor, Elmer went to join up, but they turned him down because he was only 16. Finally on December 29, 1942 at age 17, he figured out how to fool the recruiters and enlisted in the Navy.
During the war he was stationed in Alaska's Aleutian Islands and achieved the rank of Torpedoman's Mate 1st Class by the time the war ended.
When he returned to his family in Auburn, Illinois in the fall of 1945 he began seeing Betty June Walker, the girl next door, who had been writing to him during his long years in the frozen north. They decided they still liked what they saw, so they married in Chicago on December 12, 1945.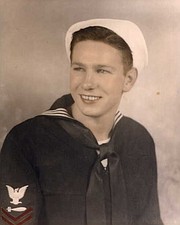 Elmer was born with the wanderlust, so in the spring of 1946, he and his bride traveled west to California in and old jalopy via Route 66. During the two years they lived in the Los Angeles area he held several jobs, including working as a machinist at North American Aviation.
Upon returning to Auburn in 1948 with a baby boy in tow, Elmer managed to find at least one job at a time to support his growing family. He worked as a machinist building heavy farm equipment, did factory work at Pillsbury Mills, worked as a carpenter, roofed, built septic tanks, and was a mechanic. He even helped out his in-laws Harold and Mary Walker at their business - Scottie's Tavern in Auburn. Never fired, he only left one job for a better one. During these years in Illinois, he and Betty added to their family by producing two daughters.
In 1962 the wanderlust hit again he decided to move west, bringing his family to Kingman, Arizona, where he decided to stay. He had several jobs, but in 1964 he began working at Ford Proving Grounds in Yucca, starting as a test driver, and retiring as chief brake test mechanic.
Elmer and Betty enjoyed nothing more than raising their three children, (and later playing with their grandkids) and through the years while working full time managed to build four different houses with their own four hands for their family to live in. He was truly a self-made and self-sufficient man who lived at his home until the very end.
Elmer never had a mortgage, a car payment, or ever owed anyone a penny. He never wanted a credit card. When he needed a new car, he'd just take the checkbook to the dealership. Although he had little formal education, he was exceptionally well read in World and US history, current events, politics and geography. For decades he read each month's National Geographic cover to cover. He enjoyed listening to old country music, drinking beer, and shooting the breeze. He loved surf fishing in the Gulf of Mexico, taking long road trips all over America along the most desolate backroads and nighttime drives over every washboard road in Mohave County to go rattlesnake hunting.
Elmer was a man with a tender heart and unlimited patience for children and animals, but he didn't suffer fools gladly. He was very opinionated and would argue the spots off dice if he believed he was right. (Mostly, he was). He was also a consummate storyteller that could keep anyone within earshot entertained for hours.
Elmer is survived by his beloved wife of 72 years, Betty, his son John (Julie) Bowen of Ferndale, Washington, a daughter Rebecca (Ron) Bowen-Odom of Boise Idaho and a daughter Cynthia (John) Short of Kingman. He also leaves behind seven grandchildren and 12 great-grandchildren, along with many cousins, nieces, nephews and their families.
He was preceded in death by his parents and all 10 of his siblings. He was the "last man standing" of the Bowen tribe.
Elmer didn't want any services, but his family is planning to get together in the near future to hoist a few, play some honkytonk music, reminisce, and spread his ashes along those old dirt roads he loved to drive.
Thoughts and condolences may be submitted to the family at www.lietz-frazefuneralhome.com.
More like this story
SUBMIT FEEDBACK
Click Below to: