Mohave 911 | June 4, 2018
Originally Published: June 4, 2018 5:58 a.m.
Mohave County Sheriff's Office and Kingman Police Department reported the following arrests for the week of June 1:
Vehicle theft, drugs, resisting arrest
A stolen dirt bike led to a resisting arrest charge, among other felonies, for 19-year-old Kingman resident Justin James Nichols Jr. Saturday afternoon.
Kingman police responded to a report that a male subject stole a dirt bike at a fast food restaurant at about 12:10 p.m. Saturday in the 3200 block of East Andy Devine Avenue. The dirt bike had been parked outside of the restaurant while the owner was inside.
Officers located Nichols and the dirt bike at a nearby truck stop, at which time he purportedly attempted to flee on foot before being taken into custody. Police said Nichols also had drug paraphernalia for methamphetamine and heroin in his possession, and had a criminal warrant issued from Kingman Justice Court for a pervious charge of vehicle theft.
Nichols admitted his involvement in the dirt bike incident according to police, and was booked into the Mohave County Adult Detention Facility on felony charges of vehicle theft, resisting arrest, possession of drug paraphernalia and a felony warrant for a previous vehicle theft.
The dirt bike was returned to the owner.


Driving under the influence
Angel Arias, 26, of Kingman, was arrested Monday for aggravated driving under the influence, a felony, and driving with a revoked license, a misdemeanor.
Deputies saw a vehicle going 15 mph under the speed limit in the 4300 block of Bank Street and attempted to stop the vehicle. The vehicle continued on until the 3000 block of Northern Avenue.
Arias began arguing with deputies about how long it took him to pull over, and deputies reportedly smelled alcohol on him. A records check showed a revoked license from a previous DUI.
Deputies report they searched his vehicle and found an open 40-ounce bottle of beer under the passenger seat. A breath test revealed blood-alcohol content of 0.15 percent. Arias was booked into Mohave County jail.
Dangerous drugs
Mohave County Sheriff's deputies arrested four men in two separate incidents for possession of dangerous drugs.
Todd Jeffrey Bray, 37, of Kingman, and Walter Emery Major, 57, of Kingman, were arrested Monday after deputies saw Bray's vehicle enter a gas station in the 3700 block of Diagonal Way and knew him from previous contacts.
Deputies asked Bray if he had anything illegal in his vehicle, and he allegedly admitted to having syringes in the center console. A search was reported to have found fake currency, syringes and a baggie containing about 14 grams of meth.
Major, the passenger, had entered the store and was searched when he came out. Deputies say they found drug paraphernalia in his pants pocket. A store employee told deputies that Major left meth on the counter and floor after seeing deputies search the vehicle and approach the store.
Deputies recovered the alleged meth and arrested both Bray and Major for possession of dangerous drugs and paraphernalia, both felonies.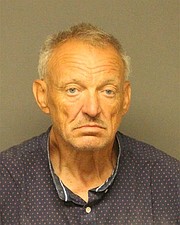 Dangerous drugs
In a separate incident, sheriff's deputies arrested Donald Edward Stables Sr., 54, and Richard Douglas Hadden, 59, both of Kingman, for drug offenses.
Deputies went to the 3600 block of Robin Lane on a report of drug sales and spoke to Stables and Hadden, who had been standing in the front yard. Stables allegedly told deputies he had sold drugs in the past, but didn't have anything in possession except a small amount of marijuana.
He invited them into his residence to look around. Deputies asked if there were any guns in the home and reported Stables said there were. Deputies said they found about 60 grams of meth in the bedroom, a half-gram of pot and various smoking pipes with residue.
Deputies searched Hadden's vehicle and allegedly found about three-fourths of a gram of meth in a baggie under the passenger door. Hadden reportedly said he tried to kick the baggie under the truck.
Stables was arrested for possession of a weapon used in a drug offense and possession of dangerous drugs and paraphernalia, all felonies.
Hadden was arrested for dangerous drugs and paraphernalia, both felonies.
Drug, weapon possession
A traffic stop in Fort Mohave led to deputies finding a heroin, methamphetamine, a handgun, syringes and drug paraphernalia.
Elmer Thomas Renner, 51, of Bullhead City, and Julian Marie Saxton, 50, of Kingman, were arrested Tuesday after Mohave County Sheriff's Office deputies observed and conducted a traffic stop on a black vehicle driving east on Camp Mohave Road with no taillights or headlights on.
Deputies made contact with the male driver, Renner, and female passenger, Saxton. Deputies say both subjects gave false names when asked for identification, and that they had their wallets stolen and were unable to provide identification.
Renner also failed to provide officers with vehicle registration and insurance information, according to the MCSO report.
Deputies detained Renner, and he allegedly began to resist arrest and attempted to turn around on the officer. Both subjects were detained and additional officers arrived on scene.
During a pat search, deputies reported they located two grams of heroin and a scale on Renner.
A K-9 unit was deployed and purportedly gave a positive alert to the handler for drugs inside the vehicle. A search revealed a 9 millimeter handgun under the driver's seat, four grams of methamphetamine, syringes, and drug paraphernalia.
A records check also revealed an active warrant and a prior felony charge on Renner. Deputies say Saxton admitted her identity to deputies and a records check revealed an active warrant.
Elmer Thomas Renner was arrested for possession of a weapon by a prohibited person, possession of a weapon during a drug offense, dangerous drug possession, narcotic drug possession, drug paraphernalia possession, a misdemeanor for fault to admit carrying a deadly weapon and two active arrest warrants.
Julian Marie Saxton was arrested for two counts of dangerous drug possession and drug paraphernalia possession and an active arrest warrant.
Both were booked into Mohave County jail without incident.
More like this story
SUBMIT FEEDBACK
Click Below to: