Originally Published: June 6, 2018 5:02 p.m.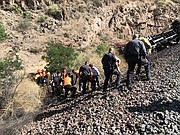 TRUXTON – One man died and another suffered serious injuries from a train collision Tuesday afternoon in a remote canyon, Mohave County Sheriff's Office reported.
Walter Erickson, 63, of Lenexa, Kansas, was pronounced dead upon arrival. Matthew Thompson, 26, of Salem, Missouri, was airlifted to University Medical Center in Las Vegas, where he was listed in stable condition.
Deputies were called out to the accident around 3 p.m. Tuesday and saw one train belonging to Burlington Northern Santa Fe Railway with significant front-end damage.
The other train had been pushing maintenance equipment belonging to Herzog Railroad Services, and the equipment had been derailed. Both the deceased and injured man were Herzog employees.
All occupants of the BNSF train were accounted for and no other injuries were reported.
Sheriff Doug Schuster expressed condolences to the family, and said circumstances contributing to the cause of the accident will be investigated by the National Transportation Safety Board.
"Mohave County Sheriff's Office is here to support NTSB in the investigation of the accident and will be conducting our own independent investigation regarding the loss of life," Schuster said in a statement.
The sheriff thanked the Arizona Department of Public Safety, American Medical Response, Hualapai Nation Emergency Services, Mohave County and Arizona Department of Transportation for their support.
Information provided by MCSO
ORIGINAL POST
TRUXTON - One man was dead on scene and another was airlifted by Department of Public Safety Ranger Helicopter after a train collision outside of Truxton near mile marker 91 on Route 66 Tuesday afternoon, according to Mohave County Sheriff's Department and Hualapai Nation Emergency Services.
When MCSO deputies arrived on scene, one train was derailed and another received significant damage.
Hualapai Nation Emergency Services responded with police, fire, adult detention and code enforcement personnel and equipment. Along with DPS and MCSO, BNSF police were on scene.
The investigation is ongoing. National Transportation Safety Board has been notified.
Follow kdminer.com as more information becomes available.
Information provided by Mohave County Sheriff's Department and Hualapai Nation Emergency Services
More like this story
SUBMIT FEEDBACK
Click Below to:
This Week's Circulars
To view money-saving ads
For as little as $3.49*