Originally Published: June 7, 2018 6 a.m.
KINGMAN – The Kingman North Little League Majors squad is quite familiar with Mohave Valley as the two teams met in the championship game of the Tournament of Champions last season. Kingman North lost that contest by one run, but rekindles the rivalry at 8 p.m. Thursday in the opening round of this year's Tournament of Champions at Southside Park.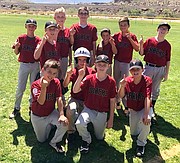 "It's exciting," said Kingman North manager Chad Benson. "I know Mohave Valley will bring a good team – they always do. They have a bunch of talented kids down there, and it's going to be exciting right out of the gate. It's a great matchup for the first game, and we're going to find out really quick where we stand. It'll be fun."
Kingman North will also have home-field advantage on its side as this year's tournament is in Kingman rather than in Lake Havasu City. Benson knows that fact will pay dividends and help the players compete at a higher level.
"It's definitely an advantage for us to be playing in our hometown, and we're excited to be playing in our hometown," Benson said. "We're appreciative of the local little league helping to make that happen. We don't have to travel. Hopefully it'll fit us a little better and we'll do well."
Kingman North has the talent to make another run in this year's tournament, and Benson pinpointed pitching as their biggest strength.

"We have some kids that pitch well – they throw hard, they have the ability to command the zone and that makes a big difference," he said. "If things work out right and the pitchers are throwing well, you can save a lot of pitches by not throwing a lot of bad pitches. That definitely helps the strategy, especially when pitchers are limited."
With a win, Kingman North would advance to a contest against the winner of Parker-Bullhead City at 6 p.m. Friday. However, Benson isn't looking ahead to that just yet.
"It's one pitch at a time, one swing at a time and one game at a time," he said. "That's what we have to do – we can't worry about Friday or Saturday. Right now we have Mohave Valley, and they beat us last year. We have our work cut out for us. We're going to go at them with everything we have and see what happens."
Joining Kingman North in the eight-team Majors Tournament of Champions bracket is Kingman South. The squad knows that it will also have the upper hand playing in the friendly confines of Southside Park.
"We definitely have the advantage playing at home," said Kingman South manager Shane Duraggo. "I've talked to them and told them this game is no different than any other game we've played. We know it is TOC, but just take it play-by-play and go from there."
Kingman South's first test will be at 5:30 p.m. Thursday against Needles. It'll be the first time the two squads have met this season.
"I heard they have a couple of good pitchers," Duraggo said. "We know it'll be a tough game as any game would be. But I have confidence in my boys and I'm looking forward to it."
Duraggo added that hitting is the team's strength, but they also have good pitching and defense. However, as is the case for any young player – miscues happen – but Duraggo hopes they can minimize the mental mistakes. But at the end of the day, he still wouldn't trade his team for another.
"They are really a great group of kids," Duraggo said. "They're a blast to be around and they keep me on my toes, that's for sure."
More like this story
SUBMIT FEEDBACK
Click Below to:
This Week's Circulars
To view money-saving ads
For as little as $3.49*